Deputy police chief position eliminated as U-M Department of Public Safety reorganizes
Posted on Tue, Jul 17, 2012 : 5:58 a.m.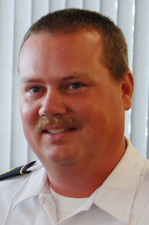 AnnArbor.com file photo
The University of Michigan Department of Public Safety is eliminating three positions as it goes through a "budget-related" reorganization, spokeswoman Diane Brown said.
"We're doing a lot of reorganizing," she added. "Some titles are changing. There (will be a realigning) of several duties. There are also some positions that are going into administrative positions."
The fates of the individuals who filled the positions will vary. A payroll clerk position is being eliminated, but the person who occupied it - whom Brown did not want to name -will be taking a different position within the department.
A senior accounting clerk, who Brown also did not want to name, will be retiring.
The most high-profile position being eliminated is the deputy chief of staff operations, which was filled by Charles Noffsinger as of last week, according to the organizational chart on the department's website.
As of Monday, Noffsinger's name and position had been taken off the organizational chart. Brown declined to say whether Noffsinger is currently employed by the university, though.
"He is still working through his options," Brown said last week.
Brown described the deputy chief of staff operations position as overseeing budgets, hiring staff, training and payroll. Those duties will be taken care of by other divisions within the department after the realignment, Brown said.
Noffsinger also was involved with special events, such as policing U-M home football games. A past news release called Noffsinger the "game day law enforcement incident commander" for the games.
In 2007, Noffsinger was on a short list of candidates up for the police chief job at Eastern Michigan University. A profile of Noffsinger that appeared in the Ann Arbor News at the time said he was an Ann Arbor native who started working for U-M public safety in 1988 as a civilian and had "climbed the ladder" to become a captain.
AnnArbor.com was unsuccessful in its attempts to reach Noffsinger for comment Monday.
Gregory O'Dell beat out Noffsinger and other candidates for the EMU job in 2007. O'Dell served there until briefly becoming chief at U-M before returning to EMU a short time before committing suicide last December.
The U-M police department has been without a permanent chief since O'Dell left in November 2011. Joe Piersante has been serving as interim chief since that time.
There have been no new developments in a search for a permanent chief, Brown said. Piersante is making the decisions behind the current reorganization, which is taking place "to make things more efficient, more streamlined," Brown said.
"It's an ongoing process," she added.