Mlive:

Deadly EHD virus could leave hunters with fewer deer to bag

Posted on Wed, Oct 10, 2012 : 4:53 p.m.
A deer-killing virus could mean a thinner heard for hunters in southeast Michigan this year, MLive reports.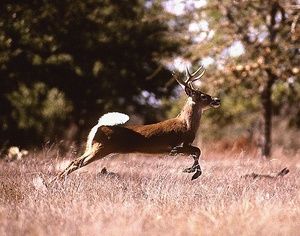 The Department of Natural Resources says epizootic hemorrhagic disease, which causes deer to bleed internally and die, is blamed in the deaths of at least 8,671 deer in 33 Michigan counties as of this week. But, because not all deaths are reported, the toll could be significantly higher.
It's not clear how the deaths will affect the hunting season. Deaths can vary significantly from place to place. The DNR reports the virus is blamed for 55 deer deaths in Washtenaw County. That's up from three deaths reported three weeks ago.
The spread of the disease is expected to slow as colder weather kills off the type of biting fly or "midge" that transmits the disease from animal to animal, experts say.
The bow-hunting season has already begun and runs through Nov. 14. The regular firearm season is Nov. 15 through 30. Bow hunters can take to the woods again Dec. 1 through Jan. 1.