Current Motor among electric vehicle makers excited about Ann Arbor's new charging stations
Posted on Fri, Jun 22, 2012 : 5:59 a.m.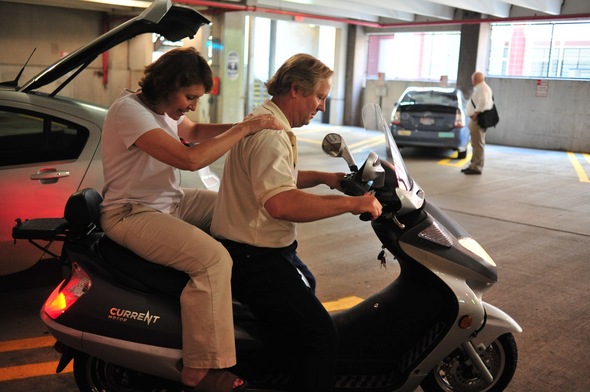 Ryan J. Stanton | AnnArbor.com

Three years after assembling its first electric scooter in a small shop just outside of Ann Arbor, Current Motor Co. is poised to grow beyond Washtenaw County's borders.

With its first major showroom opening in downtown Chicago in another month and a half, the company has come a long way from meager beginnings in Scio Township.

"We were in our small shop back then. Since then, we've got 34 of those scooters actually sold and on the road," said Terry Richards, the company's director of electric vehicle technology.

And the company is looking to sell a lot more in the near future.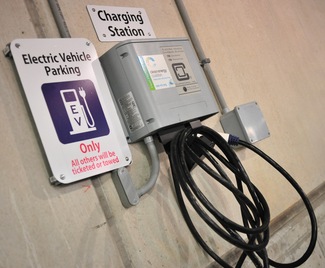 Ryan J. Stanton | AnnArbor.com
Richards said it helps that perceptions about electric vehicles are changing, and the right infrastructure is starting to be put in place to accommodate them.
Richards was on hand earlier this week as the Ann Arbor Downtown Development Authority and Ann Arbor-based Clean Energy Coalition celebrated the recent installation of 18 new electric vehicle charging stations at parking garages in downtown Ann Arbor.
"We're thrilled to death to see these charging stations," Richards said. "Because now we're going to go back home, we're going to go on our website, and we're going to put out the word that, yes, there are 18 charging stations here in Ann Arbor that these things can plug into."
Ramping up
Until recently, Current Motor designed and built everything in-house, in Washtenaw County. This past December, it moved its research and development center to Pittsfield Township, and it has worked out an arrangement to manufacture its electric scooters through Holt-based Dakkota Integrated Systems, located just outside of Lansing.
"We've started an assembly line up in Lansing," Richards said. "We've got parts for the next 50 vehicles to be built up in Lansing, and that's where we're at so far."
Nik Klopf, customer service manager for Current Motor, earlier this week showed off the company's demo scooters, including a standard model and high-performance model.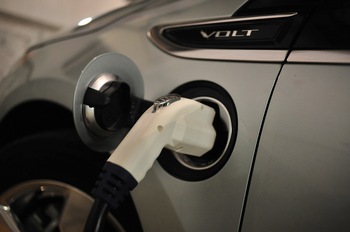 Ryan J. Stanton | AnnArbor.com
"The standard goes 40 miles on a charge and is rated at 55 mph," he said. "And then there's the high performance, and that's 50 miles on a charge and 65 mph."
One of the selling points is a zero-maintenance rear wheel hub motor instead of a messy chain or belt-driven powertrain. And it's easy to charge, taking five hours or less in a standard 110-volt outlet, with an operating cost of about 2 cents per mile on the road.
The high performance model sells for just under $12,000 and the standard sells for just under $10,000, Klopf said. And past the base model, several upgrades are available.
"They also have a new digital dash that has WiFi connectivity so you can link it with your Facebook and Twitter," he said. "And you can check your charge level all remotely on your phone, kind of like you can with some of the Chevy Volts and things like that."
Ann Arbor resident Larry Tuttle, president of the Michigan Electric Auto Association, said his group hopes to see more electric scooters like those designed by Current Motor and other EVs like the Chevy Volt and Nissan Leaf on the road in the near future.
His group is the Michigan chapter of the national Electric Auto Association, which has been promoting EVs since 1967.
At Tuesday's celebration of the charging stations at Ann Arbor's Forest Avenue parking structure, Tuttle showed off his 1994 Chevy S10 pickup truck, which he converted to an all-electric vehicle for about $10,000 and, as he puts it, "a year of weekends."
"There's two parts to growing the electric vehicle business. One is infrastructure, which they're doing," he said, giving credit to the DDA and the Clean Energy Coalition. "The other is promoting the use of electric vehicles by the public. A lot of people are still skeptical, don't understand how they work and how long it takes to charge, and things like that."
Plugging in
Among the many electric vehicles on display inside the Forest Avenue parking structure on Tuesday were a Chevy Volt, a Mitsubishi MiEV, a Nissan Leaf and a Fisker Karma.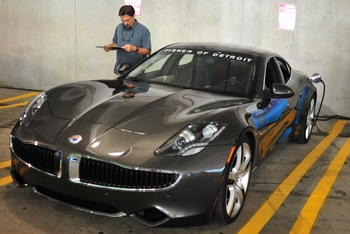 Ryan J. Stanton | AnnArbor.com
Dave Konkle
, the DDA's energy programs director, brought charts showing the last month's electric car charging use for five of the DDA's new charging stations. Even over the last few weeks, before they were announced publicly, he said, they saw relatively good use.
"People have discovered them and started using them," Konkle said. "So what you're seeing, for instance, for the Maynard parking structure, is that on May 29 somebody parked and they used about 4.5 kWh of electricity. That's about 50 cents worth of electricity."
On a couple of days, a charging station at the Fourth and William parking structure saw 17 kWh of use, which Konkle said is somewhere close to $2 worth of electricity.
"We don't know if that was one really hungry vehicle or two vehicles. We'll know that by digging deeper into the data," Konkle said. "But basically what we're seeing now is pretty good use at least at three of these, already before the announcement."
Konkle said he suspects the charging stations that are used regularly will end up costing the DDA about 50 cents a day, at a rate of about 12 cents per kWh.
"If we were to come back tomorrow and go to all of them, we'd probably find four chargers being used," Konnkle said. "Eventually, we hope all 18 get used. And then at that point, you're talking $9 a day worth of electricity."
At least for now, the DDA has made a conscious decision to allow members of the public to charge their vehicles for free to encourage more use of the technology.
Ryan J. Stanton | AnnArbor.com
"In the future, that might change," Konkle said. "We'll just see how demands go and how costs go."
The charging stations, paid for with a federal grant, are Type 2, 220-volt, 30-amp models manufactured by a California-based company called ClipperCreek.
They're able to charge a vehicle five times as fast as plugging into a normal wall socket and are capable of delivering 20 miles worth of electricity per hour of charging.
The average electric car uses 0.33 kWh of electricity per mile, so it costs about 4 cents a mile for electricity at 12 cents per kWh.
That compares to 15 cents per mile for a gasoline-fueled car that gets 25 mpg, based on a fuel price of $3.80 per gallon.
The DDA plans to have a website up in the near future that will feature a map showing where all the electric vehicle chargers are located and which are in use.