Woman found dead in Indiana pond was put in suitcase
Posted on Thu, Jun 16, 2011 : 1:45 p.m.
A woman found dead today in an Indiana pond, who is believed to be 45-year-old Dawn Fital of Pittsfield Township, was bound with duct tape, placed in a suitcase and thrown into the pond, Lake County Chief Deputy Coroner P.J. Adams said.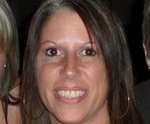 An autopsy is planned for 9:30 a.m. EST Saturday at the Lake County morgue, Adams said. The autopsy was originally scheduled for this morning, but was delayed so officials from the Washtenaw County Medical Examiner's Office could be there, Adams said.
"We think we know the cause of death," Adams said, but he declined to elaborate. He also declined to say whether the woman had traumatic injuries. Adams said the body, found at 9:13 a.m., was in the retention pond behind a Toys 'R' Us store off Route 30 between Hobart and Merrillville. It had been there for a couple of days, he said.
Fital's boyfriend, Greg Noack, 44, of Pittsfield Township, is being held at the Lake County Jail. Merrillville, Ind., police said they had probable cause to arrest Noack for murder on Tuesday after someone reported seeing him acting suspiciously behind a bank.
Police interviewed Noack and asked Pittsfield Township police to do a welfare check on Fital. Township police spent much of Wednesday searching an apartment in the Arbor Knoll complex on Michigan Avenue, where Fital lived with her boyfriend and ex-husband Patrick Fital.
The FBI, Michigan State Police and other agencies are assisting in the investigation, township police said.
Fital, a mother of four, is a championship pool player who regularly traveled to compete across the country.
Anyone with information on the incident can call township police at (734) 822-4911.