Warrants filed against 2 men suspected of kidnapping and shooting Ypsilanti man
Posted on Tue, Aug 14, 2012 : 1:22 p.m.
Two Ypsilanti brothers are wanted for kidnapping, shooting and leaving an Ypsilanti man bleeding from gunshot wounds in his legs on the side of a Superior Township road Friday.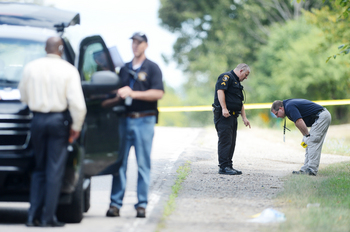 Melanie Maxwell | AnnArbor.com
Police are not yet releasing the two men's names, but court records show a 26-year-old man and a 23-year-old man from Ypsilanti are facing 13 and 12 counts respectively. AnnArbor.com will release the men's names when they are formally arraigned on the charges.
Detective Sgt. Thomas Eberts said the two brothers pointed a gun at one man and forced a different man to come with them in a red Chevrolet Camaro Friday at East Michigan Avenue and Park Street. Eberts said the man was shot multiple times in his legs before being left on Ford Road, where he was found by a passer-by at 1:20 p.m. Friday.
"Had the passer-by not stopped and got him help as quick as they did, who knows what would have happened to him," Eberts said.
Police are working to apprehend the two brothers but are not getting a lot of cooperation from the family, Eberts said. The man who was with the victim identified the suspects, he said.
The incident was not a random act of violence and the victim knew the brothers, Eberts said. The victim is said to be an Ypsilanti man who is about 30 years old and he was reported to be in stable condition at University of Michigan Hospital immediately following the shooting.
According to Ypsilanti police, the incident may have been retaliation for an incident that took place a few days before the shooting.
The man still is in the hospital and investigators are going to interview him again Tuesday in order to get more information on the incident, Eberts said. So far, they haven't had the chance to speak with him any more than the preliminary interview done on Friday.
The 23-year-old man faces two charges each of assault with intent to murder, assault with intent to do bodily harm less than murder and unlawful imprisonment, along with four charges of assault with a dangerous weapon and a charge each of carrying a concealed weapon and possession of a firearm during the commission of a felony.
The 26-year-old man faces all of those charges along with an added charge of possession of a firearm by a person convicted of a felony. According to state records, the man was on parole for armed robbery and conspiracy to commit armed robbery.