Warrant issued for Ypsilanti man accused of shooting at girlfriend
Posted on Thu, Aug 23, 2012 : 5 p.m.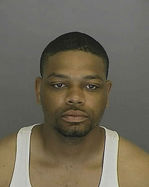 Courtesy of the Ypsilanti Police Department
A warrant was issued Thursday for the arrest of a 28-year-old Ypsilanti man accused of shooting at his girlfriend last month.
Ypsilanti police are looking for Germayne Deshon McClendon who allegedly fired a handgun at his 24-year-old girlfriend in the 100 block of South Grove Street in Ypsilanti July 9.
"He fired a round at her and it missed," said Det. Joe Yuhas of the Ypsilanti Police Department.
The woman was not injured and reported the incident to police at 4 a.m. She said she and McClendon were at Armstrong Court earlier that night when he got into a heated argument with unknown subjects and fired a gunshot, according to Ypsilanti police.
The frightened woman left without McClendon for their shared residence on South Grove to gather things and leave before he got home. The couple had been together for two years, police said.
As she was attempting to leave, McClendon arrived with some friends and exited a vehicle with the gun in his hand, Ypsilanti police said. The woman was hurriedly trying to get into her car when she heard two shots and the glass of the passenger side window break, she told police. She sped away uninjured.
Officers later observed her passenger window was broken out and located a round inside the vehicle. Ypsilanti police also saw a text message McClendon sent to the woman that said, "Die, die, die."
Police were not able to locate McClendon at that time.
The charges listed on the warrant are assault with intent to murder, assault with intent to do great bodily harm and assault with a dangerous weapon. Ypsilanti police actively are searching for McClendon. Anyone with information about his whereabouts should call the Ypsilanti Police Department at (734) 483-9510.