Vandals strike with spray paint at Garden Homes Park in Ann Arbor
Posted on Fri, Jun 1, 2012 : 1:11 p.m.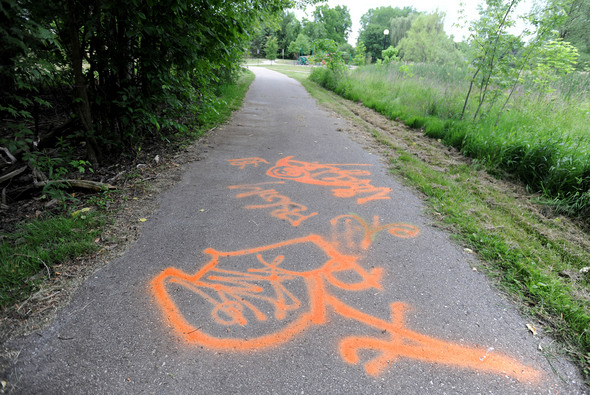 Angela Cesere | AnnArbor.com
Garden Homes Park in Ann Arbor is the latest area to fall prey to spray-painting vandals.
Residents in a neighborhood near the park, located on Fulmer Street in northwest Ann Arbor, are complaining of graffiti containing obscene symbols and curse words on a path and landscaping boulders in the park.
Jason Bibby, 38, lives near the park with his family and said he won't take his two small children there anymore.
"It was quite obscene writing," he said, adding that there was also "weird gang writing."
Bibby said the spray painting occurred at some point Wednesday night and Thursday morning.
The city of Ann Arbor's Parks Operation division confirmed it is aware of the incident and had crews out Friday morning cleaning up the park.
No reports have been filed with the Ann Arbor Police Department.