U-M's renowned Arb peony garden vandalized
Posted on Mon, Jun 4, 2012 : 3:23 p.m.
A Nichols Arboretum employee made a disturbing discovery last Wednesday morning when she arrived for work. A number of the beautiful blossoms in the Arb's peony garden were strewn over the ground.
"It's particularly sad during this time when hundreds of visitors are out enjoying the peonies that someone would ever want to destroy these plants," Robert Grese, director of the University of Michigan's Matthaei Botanical Gardens & Nichols Arboretum, said in the Record Update, an online publication.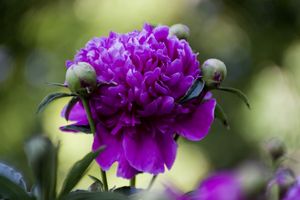 Jeffrey Smith | AnnArbor.com
The good news is that the plants likely will recover, Grese said.
Whoever pulled off the flowers and stems apparently tried to pull up the plants but wasn't successful, and instead just pulled off the stems. "That basically deprives people from enjoying them this season," he said.
Six plants were damaged, he said. That could amount to about 50 stems and many blossoms. Each plant can have up to about 20 blossoms or so, he said.
The employee found peony stems at the Arb's Washington Heights entrance. Peony leaves, flowers and stems were strewn around the central garden path, the Record Update reported.
The Arb is in the midst of celebrating the 90th year of its peony garden, which U-M says draws thousands of visitors each season and is the largest collection of antique and heirloom peonies in North America,
Dr. W.E. Upjohn, founder of the Upjohn pharmaceutical company in Kalamazoo, donated the peonies for the garden in 1922.
Grese said it's not too late to enjoy the beauty of the peonies this year. Though there's a bare spot in the garden where the damaged peonies were, there are still many others sporting their lovely blossoms. The garden includes more than 230 kinds of peonies.
Grese said it's hard to understand why anyone would want to damage peonies. He said it's the first such incident since he became the director in 1998.
"I don't know if it was a spur of the moment thing … if someone had a burst of anger or what they were thinking."