'Super drunk' driver who failed court-ordered alcohol test last week gets 6 months in jail
Posted on Wed, Jul 25, 2012 : 5:56 a.m.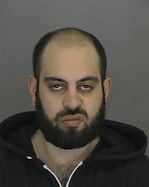 Courtesy of the Washtenaw County Sheriff's Office
Washtenaw County Trial Court Judge Donald Shelton had some sharp words Tuesday before he sentenced a 24-year-old Troy man guilty of driving while "super drunk" to six months in jail.
Derek Pike, who had a blood alcohol content level three times the legal limit of .08 when he caused an accident in Ypsilanti in March, also failed a court-ordered alcohol test last week.
"What that tells me is that you've got a ... severe alcohol problem," Shelton said.
The 24-year-old man, who said he now lives with his mother in Rochester, explained that his friend's grandmother - whom he was very close to - recently died and he drank "a few beers" while grieving.
"You get drunk to grieve?" Shelton said. "It's on top of blowing a .26 and rear-ending somebody. While that's pending, you go out and drink again."
Pike was sentenced to three years of probation and fines. Shelton ordered Pike to take Antabuse, a drug that causes unpleasant side effects when alcohol is used, when he is released from jail. Pike has one day served in jail as credit.
Pike was charged under Michigan's new drunken driving law, which metes out harsher punishments to those caught operating a vehicle with a blood alcohol content higher than .17 percent.
In June, Pike pleaded guilty to operating a vehicle with the high blood alcohol content, as well as carrying a concealed weapon, possession of marijuana and failing to stop at a property-damage accident. A count of operating while intoxicated and a count of possessing a firearm while intoxicated were dropped.
At 2:05 a.m. on March 4, Pike rear-ended a woman's car as he was driving near the intersection of Washington Street and Ferris Street in Ypsilanti. Pike drove away, but police said he only made it a block before they pulled him over. A .22-caliber semi-automatic handgun was in in the car's glove box, and he did not have a permit for it, police said.
"I brought shame and embarrassment on myself," Pike told the judge Tuesday. "I'm humbly sorry for everything that I've done."