Saline man pleads no contest to arson charge in apartment fire
Posted on Mon, Jul 9, 2012 : 4:46 p.m.
Paul Morphew, 22, of Saline, appeared in the Washtenaw County Trial Court Thursday where he pleaded no contest to a charge of arson in a dwelling.
In March, Morphew was accused of trying to burn down his Saline apartment building by starting a fire with his stove.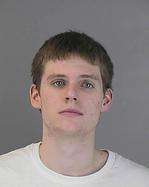 Courtesy of Saline Police Department
In exchange for his no contest plea, a charge of arson of personal property between $1,000 and $20,000 and a charge of possession or sale of a switchblade were dropped. Morphew will pay $5,272.32 in restitution in the plea deal.
The judge agreed to not give Morphew any more jail time at the time of sentencing, which is scheduled for 1:30 p.m. Aug. 2. Morphew will remain in jail until the sentencing.
"The purpose of the no contest plea is for civil liability," said Roland Sizemore, Morphew's attorney.
A no contest plea is treated much like guilty plea, but protects a defendant from future civil litigation.
According to past AnnArbor.com reports, on March 7 Morphew called Ann Arbor police and reported there was going to be a fire at his apartment. Ann Arbor officials contacted Saline police, who responded to the 200 block of Clark Street in Saline and found thick smoke coming from the building.
All four burners on the stove had been lit and papers were burning on top of them, according to police. Firefighters were able to extinguish the blaze.