Police: Investigation continues into rollover crash on U.S. 23 that killed 2 children
Posted on Wed, Aug 1, 2012 : 2:59 p.m.
Michigan State Police troopers continue to investigate the crash that killed two children in late June, but they have released few updates on the crash.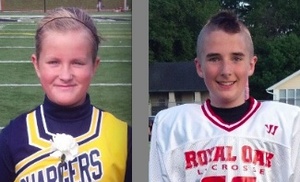 Jordan and Ashley Siegel, 14 and 11 respectively, died following a crash on U.S. 23 south of Michigan Avenue on June 22. Police said a silver minivan similar to a Honda Odyssey hit the 1999 Ford Expedition in which they were riding, then left the scene.
Sgt. Mark Thompson told AnnArbor.com that the investigation is still active, but there has been nothing to release since mid-July, when a lawyer for a woman who was driving a vehicle that matched the description of the Odyssey contacted them. However, Thompson said he couldn't publicly state what stage of the investigation police are in.
"It's an investigation and nothing happens fast in an investigation," he said. "All I can tell you is the investigation is continuing and officers are diligently following up on leads."
Police said the Expedition, driven by the children's stepmother, Dawn Siegel, was traveling south when the Odyssey moved into the same lane. Police said witnesses stated the van and Expedition collided and the van continued to drive south on US-23.
The Siegel children were two of seven people in the Expedition when it rolled several times into the median on US-23. The vehicle ended up coming to rest on its roof in the grass.
Jordan and Ashley died at the scene of the crash. They were Royal Oak Middle School students.
Thompson said the attorney for a woman who was driving a vehicle that matched the description of the suspect vehicle description contacted police on July 11. He emphasized there were no admissions of guilt from the attorney's client and the investigation is still active.
"No one has surrendered to the police regarding the investigation, there have been no admissions, no charges filed," Thompson said. "A vehicle matching description has been turned over to the police by an attorney on behalf of the attorney's client. The investigation is still open and active."
Thompson asked that anyone with information on the crash who wants to come forward contact the Michigan State Police Brighton Post at 810-227-1051.