Police find man who pleaded guilty in 2011 shooting hiding underneath attic insulation
Posted on Tue, Aug 7, 2012 : 7:31 p.m.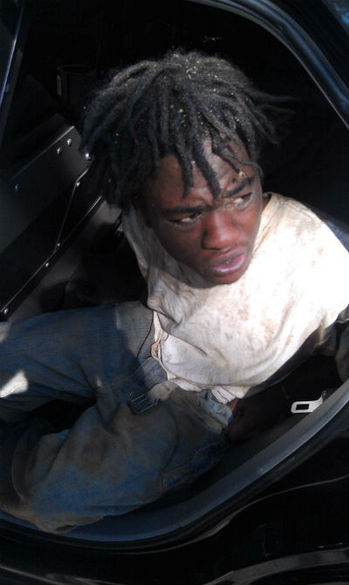 Courtesy of the Ypsilanti Police Department
Editor's note: The spelling of Det. Joe Yuhas' name has been corrected.
The Ypsilanti man who skipped out on his sentencing hearing after pleading guilty in a 2011 shooting incident was caught by police Tuesday afternoon hiding underneath insulation in the attic of a Superior Township home.
Det. Joe Yuhas of the Ypsilanti Police Department said they received an anonymous tip Kennyon Jackson, 20, was at a residence in the 1500 block of Stratford Court. Ypsilanti police and deputies from the Washtenaw County Sheriff's Office both went to the home around 3 p.m.
"We searched the house initially and didn't find him," Yuhas said.
Near the door to the attic, police noticed bits of insulation on the floor. They asked the residents - who police said were Jackson's "acquaintances" - when the last time they had been in the attic and the residents said "never," Yuhas said.
Police then searched the attic.
"We found him hiding … basically hunkered down in some insulation," Yuhas said. "It feels great to have him in custody. We've put a lot of man hours into tracking him down. A guy like this should definitely not be on the streets."
Police will seek a charge of felonious resisting a police officer because Jackson hid in the attic while they searched the home for an hour. They have been looking for Jackson since he didn't show up to his sentencing at the Washtenaw County Trial Court on June 18.
In May, Jackson pleaded guilty to a charge of carrying a weapon while committing a felony and assault with intent to do great bodily harm. According to court records, charges of assault with intent to murder, armed robbery, carrying a weapon with unlawful intent, discharging a firearm in a building and possessing a firearm while being a felon filed against Jackson will all be dismissed at sentencing.
Jackson was accused of shooting Antonio Cooper in the face in July 2011 at a South Grove Street apartment while Cooper was trying to sell Jackson and Tory Warren, who was also charged in the shooting, a pair of high-end sunglasses.
Police arrested Jackson in November at a Superior Township apartment and he was lodged at the Washtenaw County Jail on a $100,000 cash or surety bond until February, when Judge Melinda Morris lowered his bond to $50,000 right to post 10 percent. He bonded out of jail in late February after paying $5,000.
Jackson is currently lodged at the county jail awaiting arraignment on the warrant for failing to appear in court for sentencing. Ypsilanti police will request there be no bond at that time. A new sentencing date is expected to be set soon.

View Washtenaw County Crime Reports in a larger map