Parolee charged with giving heroin to man who died
Posted on Thu, Oct 13, 2011 : 6:45 p.m.
A parolee is accused of providing heroin at an Ypsilanti Township mobile home community in April that resulted in a man's death.
Mick Russell, 31, of Belleville was arraigned Wednesday afternoon at the Washtenaw County Jail on a charge of delivering a controlled substance resulting in death.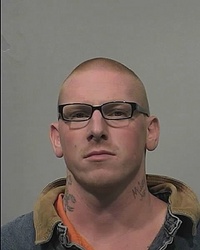 He is accused of providing heroin at about 8:57 p.m. April 11 at a mobile home community at 117 South Harris Road that resulted in the death of 51-year-old Dennis Ray Steele, court records show.
Sgt. Thomas Pennington, a sheriff's department spokesman, did not respond to a request seeking comment.
Russell's wife, 31-year-old Misty Russell, said she thinks it's ridiculous her husband was charged in the death of a man he'd been friends with for years.
She said her husband told her that night that he found Steele dead at Steele's home, where a total of four people had been partying all day, doing drugs. It's a tragedy, she said.
She said there's a difference between killing someone and partying with someone.
"My husband called 911," she said. "He administered CPR as instructed. He stayed until police and rescue arrived. It scares me that it's going to make people afraid to call 911."
Her husband, who has two children and is unemployed, has a criminal record dating back more than 15 years, state Department of Corrections records show. On Aug. 26, 2010, he was paroled after serving nearly three years in prison for unarmed robbery.
Court records show that the recent drug case is not the first time Russell's been charged with a crime at the mobile home community.
When he was 16, Russell and another teenager were accused of attempting to kill a teenager with a Molotov cocktail at the park. Russell pleaded guilty to manufacturing explosives with unlawful intent and was sentenced to between 3 and 5 years in prison, court records show.
He also has convictions for being a felon in possession of a firearm, assault with a dangerous weapon, possessing a firearm during the commission of a felony and larceny in a building.
At Wednesday's arraignment, Magistrate Camille Horne set bond at $25,000 cash or surety and agreed to appoint a public defender to represent Russell, records show. A preliminary hearing is scheduled for Oct. 19.
If convicted, Russell could be sentenced to up to life in prison.
Officials at the Washtenaw County Medical Examiner's Office would not release any information about Steele's death on Thursday.
Washtenaw County officials also denied an AnnArbor.com Freedom of Information Act request seeking the cause and manner of death. In denying the request, the county's risk management coordinator wrote that the information is part of a criminal investigation.