Northfield Township police arrest 4 men involved in Tractor Supply Company thefts
Posted on Wed, Jul 18, 2012 : 3:37 p.m.
Four men said to be working together to steal from Tractor Supply Company locations in Washtenaw, Jackson and Livingston counties were arrested Monday after an incident in Northfield Township.
Northfield Township police reported officers responded to an alarm call at 5:27 a.m. Monday at the store, 6850 Whitmore Lake Road. A pickup truck was leaving the scene when officers arrived and two men were inside, according to police.
The Washtenaw County Sheriff's Office and Green Oak Police Department assisted Northfield Township police in arresting the two men, who had two Rototillers in the back of the truck, according to police.
Police said the two men disconnected the security cable on the two machines and put them in the back of the pickup truck. The two machines were worth a combined $1,598.
During questioning at the police department, the men admitted they were responsible for thefts at stores in the Whitmore Lake, Howell, Ann Arbor and Jackson areas, according to police.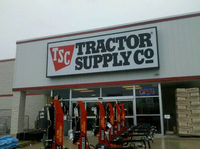 from Yelp
A 24-year-old man and a 23-year-old man, both from South Lyon, were lodged at the Washtenaw County Jail to await charges.
After their admission, police from Northfield Township and Brighton were able to arrest a 39-year-old Wixom man and a 22-year-old Waterford man at a home in Brighton, according to police. The Waterford man is lodged at the Livingston County Jail for the Howell-area theft and the Wixom man is lodged at the Oakland County Jail on unrelated charges.
The men's names are not being released because they have not been formally charged with a crime.