Police: Men in Burger King knife fight were strangers, will be hospitalized overnight
Posted on Mon, Jul 16, 2012 : 3:48 p.m.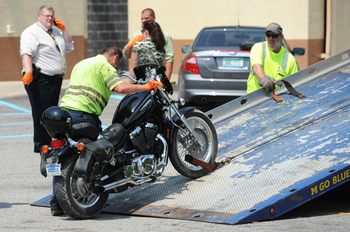 Melanie Maxwell | AnnArbor.com

An argument between two strangers escalated into a knife fight that sent both of them to the hospital Monday, leaving investigators to sort out the seemingly random incident.

Pittsfield Township Director of Public Safety Matt Harshberger said the 32-year-old Saline man and the 46-year-old Brooklyn (Mich.) man did not know each other prior to the altercation shortly after 11:30 a.m. Monday outside the Burger King, 6190 W. Michigan Ave. An initial police statement said the Saline man showed the knife and stabbed the Brooklyn man several times.

The Brooklyn man managed to take the knife away from the Saline man and stabbed him several times in return, police said. Harshberger said the Brooklyn man ended up getting the worst of the altercation, but both men will be held at St. Joseph Mercy Hospital in Superior Township overnight to be treated for their injuries.

"From what we're getting right now, one of the two men is in serious condition, but we do not believe it's life threatening," Harshberger said.

The restaurant was closed for a few hours while police investigated the stabbing Monday afternoon, but was open by 3:15 p.m. A woman who answered the phone at the Burger King declined to comment on the incident, directing questions to headquarters.

Numbered evidence cards led from the east entrance of the restaurant north through the parking lot into woods that run behind the Burger King and Quantum Physical Therapy, which is next door. Yellow crime scene tape wrapped around the entrances and exits of the Burger King caught the eye of many motorists driving down Michigan Avenue, with some yelling to other motorists that the restaurant had been robbed. There was no evidence of that Monday afternoon.

Several would-be customers pulled up to the store and turned away after finding the restaurant closed for investigation around 1 p.m. Monday.

Police are continuing to investigate the incident and believe everyone involved is accounted for.

No one else is a suspect in the stabbing and police are not searching for any other people, Hashberger said.

Police are still investigating what started the argument and there were multiple witnesses inside the restaurant when the fight occurred, Harshberger said. Investigators are still interviewing the men in an attempt to confirm more facts, he said.

The case could be turned over to the Washtenaw County Prosecutor's Office for review as early as Tuesday morning, Harshberger said.