Man pleads guilty to 'super drunk' driving, weapons charge after hit-and-run crash
Posted on Thu, Jun 14, 2012 : 6:02 p.m.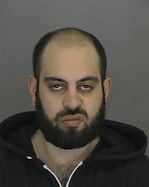 Courtesy of the Washtenaw County Sheriff's Office

A 24-year-old Troy man has pleaded guilty to 'super' drunken driving and causing an accident in March.

Derek Pike was charged under Michigan's new 'super drunk' law, which metes out harsher punishments to those caught operating a vehicle with a blood alcohol content higher than .17 percent. Pike registered .26 and .24 at the scene of the arrest.

At a final pretrial hearing in the Washtenaw County Trial Court Tuesday, Pike pleaded guilty to operating a vehicle with the high blood alcohol content, as well as carrying a concealed weapon, possession of marijuana and failing to stop at a property-damage accident.

A count of operating while intoxicated and a count of possessing a firearm while intoxicated will be dropped when Pike is sentenced July 24.

At 2:05 a.m. on March 4, Pike rear-ended a woman's car as he was driving near the intersection of Washington Street and Ferris Street in Ypsilanti. Pike drove away, but police said he only made it a block before they pulled him over.

A .22-caliber semi-automatic handgun was in in the car's glove box ,and he did not have a permit for it, police said.