Man testifies against brothers he says abducted and shot him for revenge
Posted on Tue, Sep 11, 2012 : 4:52 p.m.
A shooting victim on Tuesday testified that two brothers were out for revenge when they allegedly abducted and shot him last month.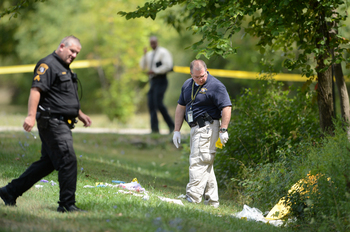 Melanie Maxwell | AnnArbor.com
Allan Tomlinson, 26, and Clinton Desir, 23, are charged with 13 and 12 felonies, respectively, for allegedly forcing Julien Butler at gunpoint to get into a car in Ypsilanti before driving him to a rural Superior Township road, where they shot him multiple times. A district court judge ruled to send all criminal charges to the Washtenaw County Trial Court Tuesday afternoon.
Butler said in court Tuesday the two men picked him up early in the afternoon of Aug. 10 at the Lucky Two Party Store, 308 E. Michigan Ave., in Ypsilanti and ordered him into a red Chevrolet Camaro. Mario Brown, Butler's brother, testified the two men were buying cigarillos and food at the store when Tomlinson pointed a gun at both of them and put Butler in the car.
While in the car, the men told Butler he had messed up by raping the mother of Desir's child, Butler said, an accusation he denied. He acknowledged having a short dating relationship with the woman but denied assaulting her.
"I told them she was lying. I don't know what she told them … all over this girl, that's what this about," Butler said.
While in the car, Tomlinson held a gun under Butler's nose and told him to smell the gunpowder, according to Butler's testimony. The car finally stopped on Old Ford Road in Superior Township and the two men told Butler to get out of the car.
"They didn't say nothin' … they looked both ways and began shooting," he said.
Butler suffered 13 wounds, his surgeons said, and suffered severe injuries to his hip, thigh, buttocks and testicles. Butler said he had to have a hip replaced and a prosthetic bone put into his thigh to replace a shattered femur. He was released from the hospital after nearly two weeks. Butler appeared in court Tuesday on crutches.
Butler said Desir and Tomlinson drove away in the Camaro and left him bleeding on the side of the road. Kenneth Bartos and other passers-by, including an off-duty emergency medical technician, pulled over and helped the injured man.
Bartos testified on Tuesday he "felt something was wrong" when he saw the Camaro do a U-turn and head back west on Old Ford Road. After passing the spot where Butler lay, he turned around and called 911.
He said he pulled his car into the oncoming traffic lane to signal to other vehicles something was wrong and "asked the person if they knew who did it and he said yes," Bartos said.
Butler was transported to University of Michigan Hospital, where he underwent treatment for his injuries. Detective Thomas Sinks, of the Washtenaw County Sheriff's Office, interviewed him Aug. 11 about the incident along with Detective Sgt. Thomas Eberts, of the Ypsilanti Police Department. The two detectives cut the interview short after less than five minutes because of Butler's heavily sedated state.
Sinks testified Butler was in and out of consciousness during the interview but managed to name his attackers.
"He said Clinton Desir shot him and Allan and Clinton tried to drag him into the woods," Sinks said.
Butler recanted on both of those claims Tuesday, testifying he was never dragged toward the woods and Tomlinson was the one he saw fire the initial shots.
Desir is charged with assault with intent to murder, assault with intent to do bodily harm less than murder, three counts of assault with a dangerous weapon, unlawful imprisonment, conspiracy to commit assault with intent to murder, conspiracy to commit assault with intent to do bodily harm less than murder, conspiracy to commit assault with a dangerous weapon, conspiracy to commit unlawful imprisonment, carrying a concealed weapon and possession of a firearm during the commission of a felony.
Tomlinson faces all those charges plus an added count of being a felon in possession of a firearm. Tomlinson has a prior conviction for armed robbery and conspiracy to commit armed robbery in 2005. He served 6 1/2 years in prison for that conviction
Steven Tramontin, Desir's attorney, argued against binding over on the assault with intent to murder charges because he believed Tomlinson and Desir did not intend to kill Butler. He said that was a necessary component of that charge.
"If they were out to kill this individual, there was ample opportunity to do so," he said.
Erika Julien, Tomlinson's attorney, agreed, saying that having Butler injured and helpless on the ground gave the two men every chance to kill him. However, all of the wounds were below the waist and the testicle wounds were consistent with someone trying to get revenge for an alleged sex act.
"I don't think they had a terrible aim," she said, adding, "Was the intent to actually kill that individual? I don't think the evidence supports that."
Washtenaw County Assistant Prosecutor Amy Reiser, who had a few tense moments with Julien during the hearing, said Desir may not have ever had a gun during the incident but was still complicit in the incident because he aided and abetted Tomlinson. Once the two men showed up at Lucky Two Party Store together, the two were bound together.
"From that point forward, everything Mr. Tomlinson does Mr. Desir is responsible for," she said.
She said, "They tried to kill him."
Pope ruled the men would be sent to the Washtenaw County Trial Court facing all of the charges, revoked Tomlinson's bond and increased Desir's bond to $300,000. Tramontin had asked for the bond to be lowered to $50,000 right to post 10 percent, while Reiser wanted the bond to be increased to $500,000.
The injuries Butler suffered may have been consistent with a revenge incident and all the wounds were below the waist, Pope said. However, that didn't mean Desir and Tomlinson weren't trying to kill him.
"Just because the shots were made below the waist from very close range does not show … lack of intent to kill," he said.
Desir and Tomlinson are due back in court for a pretrial in front of Washtenaw County Trial Court Judge Donald Shelton at 1:30 p.m. Oct. 23. They remain in the Washtenaw County Jail.