Man provoked by tweet charged with shooting at house
Posted on Tue, Oct 30, 2012 : 11:59 a.m.
An Ypsilanti man is being held in the Washtenaw County Jail on a $15,000 bond after allegedly firing two gunshots at a home in retaliation for some tweets that upset him.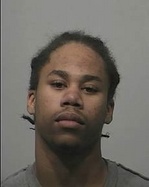 Courtesy of the Washtenaw County Sheriff's Office
Marquis Jones, 19, is charged with two counts of assault with intent to murder and one count each of carrying a concealed weapon and carrying a weapon with unlawful intent, according to court records. Jones is believed to be the man who fired two gunshots at 1:20 a.m. Saturday into a home in the 400 block of South Adams Street.
Detective Sgt. Thomas Eberts said some posts on Twitter by a resident at the home upset Jones. Eberts said Jones got off of work and went to the home, fired two shots and then left.
"The victim had posted some things on Twitter about him and he came over with a gun and took a couple shots at the house," Eberts said.
One of the bullets lodged in the front door and the other went through a window and a wall before becoming stuck in a second wall, Eberts said. No one was injured.
Jones was arrested after officers tracked him back to his home. When he left, officers did a traffic stop and arrested him, Eberts said.
According to court records, Jones will be in court for a preliminary exam at 8:30 a.m. on Nov. 6. If convicted, he faces a maximum of life in prison.