Man charged with carjacking in cab-shooting incident
Posted on Tue, Sep 4, 2012 : 1:22 p.m.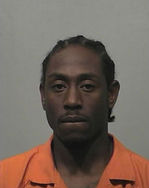 Courtesy of WCSO
The Superior Township man accused of firing off a gunshot at a cab's windshield after a squabble with the driver was arraigned on carjacking charges over the weekend, according to police.
Eddie Charles Gardner Jr., 25, is being held at the Washtenaw County Jail on a $75,000 cash bond.
At 8:20 a.m. Thursday, police were dispatched the area of Plymouth and Dixboro for the report of a shooting. No one was injured, but there had been a shot fired during the altercation.
Police said a man and a woman called for a cab to pick them up in the area of Plymouth and Dixboro. The suspects told the driver to take them to a location in Superior Township. There was a disagreement between the driver and Gardner.
Gardner allegedly pulled out a gun and fired a shot through the windshield of the cab. The driver then grabbed the gun and a fight ensued inside the vehicle. Gardner allegedly broke free and fled the area on foot along with the woman.
A short time later, deputies from the Washtenaw County Sheriff's Office received information from a citizen about the location of the suspects. Garnder and the woman were spotted by sheriff office personnel and, after a short foot pursuit, both suspects were detained in the area of Gabriel Richard Catholic High School campus.