Man causes uproar in courtroom after attacking attorney
Posted on Thu, Aug 9, 2012 : 7:04 p.m.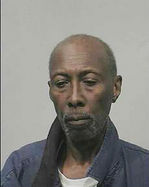 Courtesy of the Washtenaw County Sheriff's Office
This story has been updated at 1:14 p.m. Friday to include a booking photo of Donald Roberts.
A man accused in an unarmed robbery had to be forcibly restrained by police and removed from the courtroom after attacking an attorney during his hearing Thursday.
Donald Roberts, 65, was representing himself in the case at the Washtenaw County Trial Court. The prosecution had just introduced a statement from a doctor saying Roberts was incompetent to stand trial when he attempted to violently lift the lectern he stood behind.
Roberts then grabbed attorney John Vella by both arms and pushed him for a few moments before three or four deputies from the Washtenew County Sheriff's Office tackled Roberts to the ground.
Judge David Swartz had appointed Vella as a stand-by attorney in the case. Vella was at the defense table a few feet from the lectern when Roberts began his outburst. Many of those sitting in the filled courtroom gasped with shock at the scene. Officers then successfully detained Roberts and hauled him out of the courtroom.
When Roberts was gone, Swartz set a competency hearing for Aug. 17 at 11:30 a.m. He appointed Vella counsel for that hearing.
"Given the findings of the doctor, it would be a folly for (Roberts) to try and conduct an evidentiary hearing," Swatz said.
Roberts is charged with unarmed robbery, refusing fingerprinting and assault with intent to rob while unarmed, according to court records. No other details about the alleged crime were immediately available Thursday evening.
Roberts is being held at the Washtenaw County Jail on a $10,000 cash bond, according to jail records.