Man breaks into Dexter Pharmacy to steal pills, security cameras catch image of his face
Posted on Mon, May 7, 2012 : 1:26 p.m.
A burglary at the Dexter Pharmacy might have cost the store some pills, but store officials may have the last laugh after security cameras picked up a clear image of the man's face.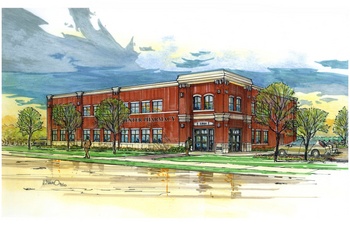 The store, located at 2820 Baker Road, was broken into early Monday morning and the burglar made off with various bottles of pills, according to the Washtenaw County Sheriff's office. It's the first break-in at the company's Baker Road location, according to director of operations Marni Schmid.
"I'm very surprised," Schmid said. "We've never had any concerns there. It's a well-lit area, there are other businesses nearby and the bar (Katie's, which is next door) was still open when it happened. It was really risky for the person that did it when they did."
The burglary resulted in Schmid having a mostly sleepless night, but she was buoyed by the fact that the store's security cameras picked up a vital clue for investigators.
The intruder burst into the store with a blue bandana covering his face, but at one point the mask slid down, Schmid said. The cameras picked up the image of the man's face and deputies were thrilled to have a good shot of him, she said.
Not only was the man's face mostly visible, but he also left behind a partial finger print.
"It was a young man, wearing a dark hoodie and blue bandana but it fell down so we could see his face in one shot," she said. "And, with the way he entered the store, we were able to get at least a partial print."
Even though the store's security system — which includes an alarm system, in addition to the security cameras — is already pretty strong, Schmid said it will be enhanced following the break in.
The company is familiar with break-ins, with four previous stores victimized by people looking for drugs, Schmid said. In one instance, a man broke into the company's former location on Main Street and stole many pills, but he was eventually found out a few days later after he overdosed, she said.
At least one other area pharmacy has been hit by drug thieves in recent months. There were two burglaries at Saline Pharmacy in late 2011 and early 2012, which resulted in a man pleading guilty to both crimes. Dustin Flodin, 30, is serving between one and 10 years in prison for those crimes, according to state records.
Schmid is hopeful a similar fate is waiting for the man who broke into her pharmacy on Monday. She said she's confident, given the evidence that was left behind, that police will be able to make an arrest in the case.
The man is described as white, in his late teens to early 20s, thin build, wearing a black hooded sweatshirt, blue bandana over his face and blue jeans, according to police. Washtenaw County Sheriff's Office spokesman Derrick Jackson did not immediately respond to a request for the image of the man's face from security camera footage.
Anyone with information on this incident is encouraged to call the Washtenaw County Sheriff's Office's anonymous tip line at 734-973-7711.