Man arrested for home invasion 2 weeks after being released from prison
Posted on Tue, May 29, 2012 : 1:56 p.m.
Two weeks after being released from a 12-year prison term, an Ann Arbor man was arrested and charged with home invasion for allegedly breaking into a home on North Fifth Avenue Sunday.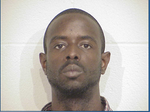 Courtesy of the State of Michigan
Ann Arbor police Lt. Renee Bush said Ronald Hollins, 32, was arrested after officers were sent at 3 a.m. Sunday to the 200 block of North Fifth Avenue for a report of a home invasion in progress. Bush said the two women, both Ann Arbor residents and in their early 20s, returned home to find a light on in an upstairs room.
Both roommates had left the home at separate times on Saturday night and met up with each other before walking home, Bush said. The roommates entered the home and called out a third roommate's name, but received no response. The women left the home and one of them called police to notify them of the break-in, Bush said.
While that roommate was on the phone, the other roommate noticed Hollins sneaking out of the home onto the front porch, Bush said. He then jumped off the porch and fled the area between houses, according to Bush.
Officers responded to the home and cleared it, allowing the two roommates to go through the home and look for missing items. One roommate noticed her laptop had been moved and cash was stolen. Other investigators searched for Hollins in the area, eventually finding him walking between homes and driveways, Bush said.
An officer confronted Hollins on the sidewalk and, after determining he matched the description given by the roommates, placed him under arrest and found cash on him, Bush said. The woman was able to identify the amount of money and type of bills that had been stolen and the cash was returned.
It's unknown how Hollins allegedly got into the home. The women told police the doors had been physically locked before they left and no sign of forced entry was found.
Hollins was arraigned over the weekend and given a 10 percent of $3,000 bond, according to Bush. Jail records showed he was no longer lodged at the Washtenaw County Jail as of Tuesday afternoon.
Bush said he's scheduled for a preliminary exam at 8:30 a.m. June 30.
Hollins has previously been convicted of third-degree criminal sexual conduct in 1999 in Washtenaw County, according to state records. He was released from prison just 15 days before his arrest, according to state records.