Man accused of sexually assaulting 15-year-old girl pleads no contest to reduced charge
Posted on Thu, Jul 12, 2012 : 12:30 p.m.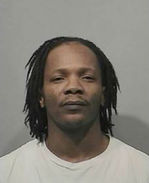 Courtesy of the Washtenaw County Sheriff's Office
Randolph Deshawn Hussey, 36, pleaded no contest in the Washtenaw County Trial Court Tuesday to third-degree sexual conduct in the sexual assault of a 15-year-old girl, according to court records.
The count was added as part of a plea deal that will dismiss six other criminal sexual conduct charges, both first and second degree, at the time of sentencing.
The plea bargain stipulates that Hussey, who has a criminal past, not be sentenced as a habitual offender. It calls for him to be sentenced between three and 15 years.
At a preliminary examination in February, the 15-year-old girl testified that Hussey sexually abused her numerous times over the past nine years. Many of the incidents occurred at a residence on Desoto Avenue in Ypsilanti Township, according to court records.
A no contest plea is not an admission of guilt, but it is treated as such by the court.
Sentencing is scheduled for 1:30 p.m. Aug. 16 in Judge Donald Shelton's courtroom.