Lincoln schools offering cash for information on vandals who attacked school, car
Posted on Mon, Jun 4, 2012 : 12:51 p.m.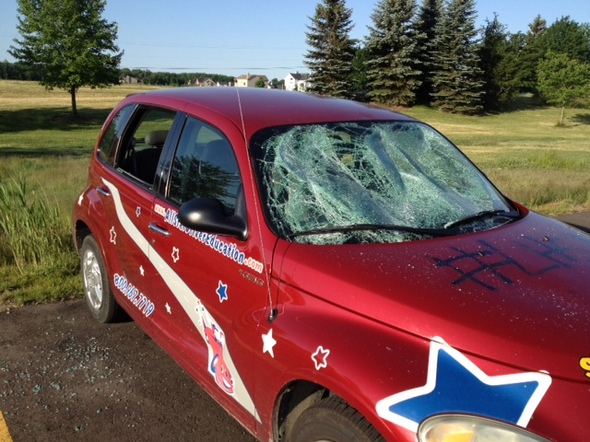 Courtesy of the Washtenaw County Sheriff's Office
Editor's note: A photo below of the graffiti contains profanity. This story also has been updated with the cost of cleaning the high school.
Deputies and school officials are looking for information — and offering reward money — as they search for the culprits responsible for smashing a windshield on a driver's education car and spray painting lots of vulgar terms on Lincoln High School last week.
Washtenaw County Sheriff's Office spokesman Derrick Jackson said the vandalism occurred between 2 and 7 a.m. Tuesday at the school, located at 7245 Willis Road. Jackson said the profane spray paint included the hashtag #LHS12 for students to talk about the prank on the social networking site Twitter.
The driver's education training vehicle, a Chrysler PT Cruiser, was spray painted with the hashtag and had extensive damage done to the windshield, Jackson said.
Almost a week later, school officials are offering $200 to anyone who can give information that leads to an arrest and conviction for the damage, Jackson said.
The graffiti on the school has been removed, said principal John Dignan.
Superintendent Ellen Bonter said the district hired a professional restoration and cleaning crew — at a cost of about $9,000 — to come during the weekend to wash the vulgar language off the building. She added once the culprits are identified, the district will seek restitution for the expense.
"At this point, we don't know if the students (who participated in the vandalism) were graduating seniors or not," he said. "There seemed like a lot of bitterness in what was written."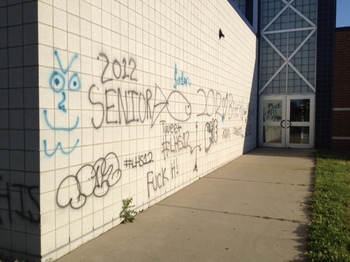 Courtesy of the Washtenaw County Sheriff's Office
He said it is possible the students who participated in the so-called "prank" were seniors who did not meet the requirements for graduation or were dropouts that had ill feelings toward the school.
Jackson said there are no suspects' descriptions available in the case right now, but the investigation is ongoing.
Ann Arbor.com K-12 education reporter Danielle Arndt contributed to this report.