Judge will allow victim's deathbed statements in fatal Scio Township beating trial
Posted on Fri, May 18, 2012 : 6:16 p.m.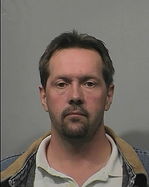 A judge will allow statements made by 55-year-old William Kenney after he received a beating that killed him weeks later.
The statements Kenney made to police from a hospital bed on Aug. 23, 2006, identify one of his attackers as Shane Roscoe, the Redford man accused of murdering Kenny at a Scio Township auto dealership in 2006.
Roscoe, an ex-Democratic candidate for Putnam Township supervisor, wasn't arrested and charged in the case until 2011.
In the Washtenaw County Trial Court on Wednesday, Judge Archie Brown denied Roscoe's motion to exclude the statements. The defense wanted the statements to be inadmissible during Roscoe's trial, which is scheduled to begin at 8:30 a.m. June 4.
Brown also denied the defense's motion to postpone the trial, as well as a motion to hold an evidentiary hearing to determine whether the statements should be admitted.
"I don't believe there is any need for an evidentiary hearing," said Brown, who added that it would be like holding a "mini-trial" before the real trial.
Roscoe's court-appointed attorney, John Vella, argued that a hearing needed to be held to study whether or not the statements met the standards of a "dying declaration."
"Before we get to any of the facts, we have to have an evidentiary hearing," said Vella.
Roscoe and Jonathon Aiden are accused of breaking into the former Jim Bradley Pontiac GMC on Aug. 18, 2006 and murdering Kenney.
Both men had previously worked at the car dealership. They were allegedly stealing auto paint canisters, hardening chemicals and an air buffer when they came into contact with Kenney, who worked at the dealership.
Prosecutors say the men hit Kenney on the head with a hard object and then ran him over with a vehicle.
Kenney was taken to U-M Hospital, where police questioned him on at least two occasions before he died from the injuries on Sept. 14.
According to court records, on Aug. 20 - two days after the attack - police spoke with Kenney who "described the assailants as either working for or having previously worked for (the dealership) as mechanics."
Kenney repeatedly ended the interview because "he said that he was dying and even asked his mother to be brought into the room because he thought he was dying," according to prosecutors.
This is legally significant, since someone being conscious of their imminent death is one of the standards needed for Kenney's statements to be defined as "dying declarations," and therefore admissible. The statements also can't be considered testimonial in nature.
In the motion, Vella argued that since Kenney spoke with police a few weeks before he died, that death was not imminent, according to court records. Vella also claimed the statements were, in fact, testimonial.
"It was not a dying declaration," Vella told the court on Wednesday.
Most importantly for the prosecution, Brown allowed statements Kenney made when police spoke with him on Aug. 23. At that time, detectives showed Kenney 41 photos of current and former employees of the dealership. Kenney narrowed them down to five. When Kenney saw a picture of Roscoe, Kenney said Roscoe was "definitely one of the attackers," according to court records.
"For the jury not to be able to hear those statements … would be an injustice," said Dianna Collins, assistant Washtenaw County prosecutor. Brown ultimately agreed with the prosecution that there was "forfeiture by wrongdoing," which admits hearsay evidence as admissible because Roscoe is accused of murdering Kenny, thus making him unable to testify.
"In order to silence him, he was murdered," Collins said. "He was silenced because he was a breaking and entering witness."