Washtenaw County judge denies convicted killer's motion to disqualify other judge
Posted on Wed, Jul 18, 2012 : 10:01 a.m.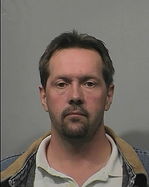 A motion by a convicted murderer that challenged a judge on legal technicalities was shot down by Judge Donald Shelton Tuesday.
Shane Noel Roscoe, who was convicted of murder by a jury last month, made a motion requesting that Judge Archie Brown be disqualified from the case. Brown presided over Roscoe's trial. Roscoe has made the same motion before Brown, who denied it.
Roscoe cited Brown denying it without review as one more reason the judge should be disqualified from the case. He also claimed Brown was biased and that he was wrong to allow statements in the trial made by the victim, William Kenney, who identified Roscoe as one of the killers from his hospital deathbed.
The matter came before Shelton because he is the chief judge at the courthouse. He said Roscoe failed to identify any claims on which to disqualify Brown from the case, which is scheduled for sentencing today.
"(The) judicial ruling never provided a valid basis for disqualification," Shelton said.
Whether or not the "dying declaration" should have been allowed or not is a "matter for the court of appeals," the judge added.
Shelton also didn't think Brown has a "deep-seated bias" against Roscoe.
"I find no evidence of that," he said.
The sentencing is still scheduled at 1:30 p.m. Wednesday in Brown's courtroom. Roscoe, who is being sentenced as a habitual offender, faces life in prison without parole.
Roscoe was convicted of breaking into his former place of employment, Jim Bradley Pontiac GMC in Scio Township, and stealing auto-related equipment and materials. During the break-in, he came into contact with Kenney, who worked at the dealership. The incident occurred on Aug. 18, 2006. Prosecutors said Roscoe, along with another man, Jonathon Aiden, hit Kenney on the head with a hard object and then ran him over with a vehicle. Kenny died from the injuries a month later.