German man convicted of assaulting prison employee faces deportation
Posted on Mon, Jul 2, 2012 : 6:40 p.m.
The German man convicted of assaulting a prison employee and bribing or intimidating a witness is in federal custody and waiting to be deported.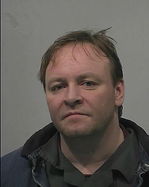 From WCSO
Martin Buerkle, who was 41 when charged, was placed into U.S. Immigration and Customs Enforcement (ICE) custody following his sentence last week in Washtenaw County, said Khaalid Walls, spokesman for ICE.
"As a result of his criminal convictions, he had been placed in removal proceedings," Walls said in a statement. "He will remain in ICE custody pending the outcome of the removal proceedings against him."
Buerkle pleaded guilty to one count of assaulting a prison employee and one count of bribing or intimidating a witness on May 29 in exchange for the misdemeanor charge of malicious use of telecommunications services being dropped, according to court records. In addition, he received a guarantee he would not be sentenced to any prison time.
Police arrested Buerkle when he got off a plane on March 16 after he made threats to kill his wife. He cut himself on his neck and wrist while at the Washtenaw County Jail and had to be transported to St. Joseph Mercy Hospital. He attempted to grab an officer's gun from its holster during that trip, according to police.
There's no estimate on how long it will take for the deportation proceedings to take place.
Court records show the divorce case between Buerkle and his wife is still pending.