Deputies searching for man suspected of stealing wallet from hospital gift shop
Posted on Tue, Aug 21, 2012 : 10:53 a.m.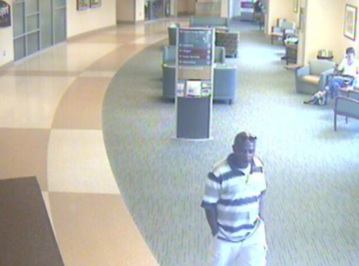 Courtesy of the Washtenaw County Sheriff's Office
Washtenaw County Sheriff's Office deputies are searching for a man who is suspected of stealing the wallet of an employee at the St. Joseph Mercy Hospital's gift shop Monday.
Security camera footage caught an image of the man walking out of the hospital off East Huron River Drive in Superior Township, deputies said in a news release. At 1:30 p.m., a man entered the gift shop and was later seen coming from the back office area. Sheriff's deputies said employees at the shop were too busy to check to find out what he was doing.
A short time later, an employee discovered that the wallet had been stolen. Inside of the wallet was cash and credit cards. The wallet had been in a back office.
The man is described as black, between 5 feet 6 inches and 5 feet 8 inches tall and weighs about 150 pounds. He was wearing a polo shirt with white, blue and brown stripes and white pants, deputies said.
Anyone with information on this incident is encouraged to call the Washtenaw County Sheriff's Office anonymous tip line at 734-973-7711.