Police: Man charged with sexually assaulting woman and locking her in trunk of car
Posted on Mon, May 21, 2012 : 4:11 p.m.
Note: David Anthony Neal is 38 years old. This story incorrectly stated he was 39.
An Ypsilanti Township man is being held without bond after allegedly sexually and physically assaulting a woman, tying her up inside a home and then imprisoning her inside the trunk of a car for hours.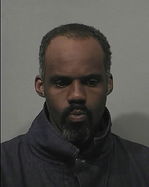 Courtesy of the Washtenaw County Sheriff's Office
David Anthony Neal, 38, is charged with two counts of first-degree criminal sexual conduct and one count each of assault with intent to murder, assault with intent to do great bodily harm less than murder, assault with a dangerous weapon, unlawful imprisonment and interfering with the report of a crime, records show.
He was arraigned on the charges Monday morning and is being held at the Washtenaw County Jail without bond, according to court records.
The charges stem from a horrifying incident that lasted a number of hours on Thursday, according to Washtenaw County Sheriff's Office Sgt. Patrick Bell.
Bell said Neal and the woman were alone together at a home in the 1300 block of Nash Avenue when he physically and sexually assaulted her. Bell said there were a number of assaults that occurred over a several-hour period.
The woman was originally tied up in the home before Neal moved her into the trunk of a car in the home's driveway, Bell said. The woman was trapped in the trunk of the car for several hours before she managed to escape, he said.
Neighbors called police after the woman screamed for help in front of the home. Deputies responded to the area and arrested Neal at the residence, Bell said.
The woman required medical treatment for non-life threatening injuries and was taken to the hospital, Bell said. Neal was arrested and lodged at the Washtenaw County Jail, where he remained Monday afternoon.
Bell would not release what weapon was used during the incident or how it was used. He said he could not release the exact circumstances of how the incident began.
Deputies will release more information after the case goes to preliminary exam in the 14-A District Court, Bell said. Neal is scheduled to face that hearing at 8:30 a.m. May 29, according to court records.
If convicted, Neal faces a maximum penalty of life in prison on each charge of first-degree criminal sexual conduct.