Thief swipes 'datemobile' bike used by MS patient and her fiance
Posted on Fri, Jun 15, 2012 : 12:28 p.m.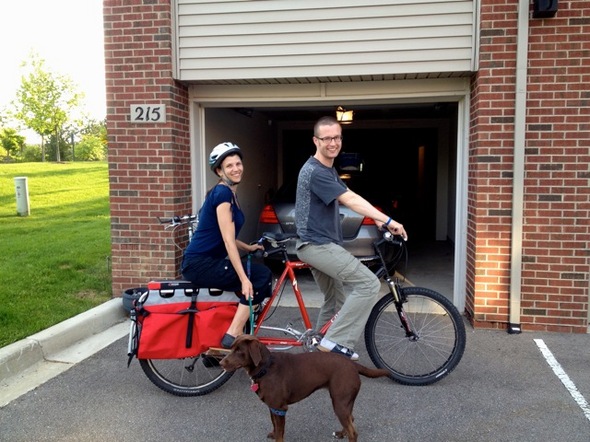 Courtesy of Sebastian Martini

"The Datemobile" has been stolen.

Sebastian Martini built the specialized bike that so he and his fiancee Christina Morton, who has multiple sclerosis, could ride around Ann Arbor, sometimes with their dog Topeka. The three of them would go to dog parks or just around the block as a different way to spend time together.

"We like to get out and do something other than eating at a restaurant or something boring," Morton said. "It took a long while to build that and it was our way to get around ... where we could do something together," Martini added.

It was with great surprise and sadness that Martini discovered Friday the 2004 Specialized Rockhopper and the 1999 Specialized Hardrock, the bike he rides to work at the University of Michigan every day, had been stolen sometime during the night.

Ann Arbor police officer Andy Vainner said a thief entered the couple's garage between 6 p.m. Thursday and 9 a.m. Friday and stole both of the bikes. Martini and Morton live in the 200 block of Oakbrook Drive.

The Rockhopper, which has a Xtracycle extension for Morton to ride on, is valued at more than $1,000, Vainner said. Martini's Hardrock was worth about $600, he said.

There were no signs of forced entry, Morton said. When the couple left the home at 6 p.m., the garage was shut and the couple isn't sure how someone got in, she said.

"We were very shocked," Martini added. "It took a long time to build and we have good memories and nice pictures with it. We would take our dog and all three of us would go to the dog park. It was important to us."

Now, the couple is hoping members of the public will recognize the bikes and help return The Datemobile and Martini's Hardrock to them.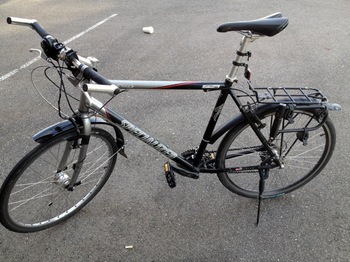 Courtesy of Sebastian Martini
There is insurance on the bike and, if the bike isn't returned, Martini will use some of that money to buy a new Datemobile, Morton said.
"It's such a special bike, I would hope that somebody sees that," Martini said, adding that he has made a Craigslist ad to notify potential buyers on the website that the bike they might be looking to buy is stolen.
The frame number on the Rockhopper is M9JI21116, Martini said. The frame number on the Hardrock is M9EI80660, and the registration number is B-290276SM, Martini said. The Hardrock is red and black and the Rockhopper is silver and black, Vainner said.
Anyone with information on the theft or on the bikes' whereabouts is encouraged to call the Ann Arbor police anonymous tip line at 734-794-6939 or the Ann Arbor police main line at 734-794-6900.