Convicted drive-by shooter's half-sister pleads no contest to offering victim $500 not to testify
Posted on Sat, Sep 8, 2012 : 5:57 a.m.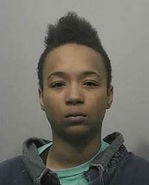 Courtesy of WCSO
A 21-year-old Superior Township woman pleaded no contest Wednesday to offering a shooting victim $500 to not testify against her half-brother.
A week earlier in the same courtroom, Shauntina Vawters wept as Judge Archie Brown read off the prison terms her half-brother received on numerous gun-related charges including two counts of assault with intent to murder. Lamarr Murphy-Ellerson, 21, also of Superior Township, stormed off as Brown sentenced him to between 22 and 40 years in prison.
This week, Vawters stood at the same lectern and entered a no-contest plea for repeatedly calling one of the victims, Murphy-Ellerson's ex-girlfriend, and offering her $500 to not testify against Murphy-Ellerson.
The female victim - who was 19 at the time of the shooting - testified Vawters called her 10 times in the week leading up to Murphy-Ellerson's preliminary examination in December 2011.
"Don't come" to court, is what the victim recalled Vawters telling her. The victim said that while she never felt threatened, Vawters did offer her financial inducements to not show up to court.
The woman, however, did testify at Murphy-Ellerson's examination about the shooting incident that occurred in Ypsilanti Township on Dec. 1, 2011. She said Murphy-Ellerson saw her with her new boyfriend at the Dairy Mart on Grove Road earlier that day.
Later that night, Murphy-Ellerson showed up at the new boyfriend's house, which was filled with people, in the 1500 block of Harry Street. He stopped his car in front of the house, pulled down the window and started shooting, the victim testified.
She was not shot, but was hit by debris falling from the house. A 28-year-old man standing in the front yard, however, was hit in the upper leg multiple times. The man and Murphy-Ellerson did not know each other.
The male victim also testified at Murphy-Ellerson's preliminary examination, according to court records.
"My phone had rang," he testified. "I stepped outside so I could hear the person on the other end. I walked outside the door and then I was laying on the ground and that's all I know."
A jury convicted Murphy-Ellerson of the shooting in June.
Vawters is scheduled to be sentenced on Oct. 24. She remains free on a bond of 10 percent of $5,000. The charge of bribing or intimidating a witness is a four-year maximum felony.