Competency hearing for murder suspect Susan Wade delayed one week
Posted on Thu, Aug 23, 2012 : 11:15 a.m.
Susan Wade, the 48-year-old Ann Arbor woman accused of murdering her father, will return to court next week for her competency hearing, originally scheduled for Thursday morning.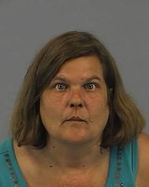 Courtesy of the Washtenaw County Sheriff's Office
Wade is accused of stabbing Ronald Mason between 25 and 30 times while he slept on June 9 at his Ann Arbor home in the 1700 block of Covington Drive. She was in court Thursday morning for a preliminary examination that was scheduled to determine her competency and criminal responsibility. However, the doctor that performed the competency tests on Wade was not available to be in court.
In order to have the doctor present, District Court Judge Ann Mattson adjourned the case until 8:30 a.m. Aug. 30.
The case against Wade is the first murder case to come out of Ann Arbor in approximately three years, according to police.
Family members have told AnnArbor.com that Wade is schizophrenic and has a history of drug abuse.
There may be issues between Wade and her attorney, Gina Noveskey. When asked by Mattson if she understood that the case was being adjourned for a week, Wade complained about Noveskey instead of responding.
"I want a new attorney because she said I was a liar when I went to the forensic center to take a test," Wade said to Mattson.
Mattson explained to Wade that any issues between her and her attorney would have to be figured out at the Aug. 30 hearing when a ruling is made on Wade's competency.
"This will not be the time to address that," she said.
Police allege Wade waited until after midnight on June 9 to approach a sleeping Mason in his bedroom, where she stabbed him repeatedly. Later that same morning, she came back into the room and believed she saw Mason move and resumed the attack, police allege.
Later on that day, Wade's daughter showed up at the home and found that Wade had barricaded herself inside. Eventually, she allowed her daughter to enter and led her to Mason's bloodied body, police said.
Wade was arrested at the home and has been charged with one count of open murder. The charge of open murder allows the jury to determine if the crime fits the description of first-degree murder or second-degree murder.
If convicted, Wade faces a maximum sentence of life in prison. She is currently lodged at the Washtenaw County Jail and being held without bond.