Rich Kinsey | Semper Cop
COLUMN:

Late Ann Arbor Police Chief William Corbett was a cop's cop

Posted on Thu, Jul 21, 2011 : 5:58 a.m.
He strode down the hall with quiet purpose. When he passed you, if you were new like me, he'd say in his deep authoritative voice, "Hi, how ya doin'?" There was never any doubt who was in charge of the Ann Arbor Police Department when William J. Corbett was chief.
Chief Corbett may have been walking down the hall to get a cup of coffee or to use to the restroom, but this man epitomized command bearing.
Chief Corbett was, as one of my colleagues commented on the report of his death, "a cop's cop." He rose from the ranks of patrolman to commander at the Detroit Police Department in the 26 years he was there. He joined the Ann Arbor Police Department in 1980.
I had the honor and privilege to serve with him from 1982 until he left the Ann Arbor Police Department in 1990 bound for Port Huron.
Chief Corbett was tough but he was compassionate and cared about his family, his cops and the citizens he served. He was the type of leader that you did not want to disappoint. He made you do your best and made the men and women who served with him better and more professional.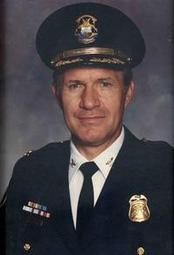 Chief Corbett lead from the front and I always felt that there was nothing that he would ask me to do that he would not do himself. I have heard stories of "a man with a gun call" during which, as chief, he arrived, took off his hat and was the first through the door. I do not care who you are or how well prepared you are, when you go through a door and you know there is someone on the other side with a gun even the stoutest heart goes pitter patter. It's called guts and courage and Chief Corbett had them.
At age 50, when most senior command are content with an office chair and a cup of coffee while they shuffle paper, Chief Corbett decided to go to SWAT (Special Weapons and Tactics) School. This training is physically and mentally demanding on the mid-20's and early 30's aged officers that it was designed for, but he went through at age 50! Oh yeah he was tough.
I remember one morning, after a homicide, the midnight shift I was working was held over. Chief Corbett briefed us. He announced that he and the major in charge of the Detective Bureau would be right there with us searching through a woods for evidence. The Detective Bureau major dressed in a sharp light gray suit did a double-take at Chief Corbett as if to say, "You gotta be kidding."
An hour later, as we slogged through thick briers, there was Chief Corbett and the major in an overcoat and rubber boots slogging through with us. To a cold, wet, tired midnight shift that was inspiring.
The chief was always immaculate in his uniform and in great shape. Chief Corbett demanded his officers look sharp in their uniforms too. In Chief Corbett's department everyone dressed in the same class A wool uniforms. At that time I was not so thrilled, for on hot days like today when I'd walk from the station to my beat on the University of Michigan Diag, the sweat would already be dripping down the back of my bullet resistant vest into my underwear by the time I got to State Street. The Ann Arbor Police Department looked sharp though.
During those days of spit and polish, heaven help the officer caught outside without his hat on. If you were outdoors your head had to be covered with either a uniform hat with a shiny visor and hat badge or a blue faux fur "trooper's hat" also with a badge on it. If you bailed out of a car to chase someone, you better throw your "lid" back on as soon as you got back to your car, because a good arrest "Attaboy" or "Attagirl" could be negated by a command officer barking, "WHERE'S YOUR HAT?"
In retrospect it was never about the hats. The hats were just a prop to instill discipline. We all had a common complaint to voice in the privacy of our police cars out of the earshot of command officers. It was just a common "burden" that inspired espirit de corps in the officers and drew them closer which prepared them to work together when real problems arose.
Chief Corbett could charm people too. I remember seeing one of the more radical council members coming out of Chief Corbett's office laughing. I asked a captain what that was all about. He informed me that although that council member would rant and rave "for his constituents" against a "pro-police" ordinance that night, the council person had just informed the chief that he should not worry, the ordinance had a majority and would pass.

By the time Chief Corbett knew me as "Rich," he had just promoted me to sergeant. I was still in the Detective Bureau about to be assigned back to patrol (standard operating procedure for promotions) when he came downstairs looking for a deputy chief. I told the chief the deputy chief had left. The chief then paused and told me a very self deprecating ribald joke -- funny enough that I would rank it as one of my top ten laughs—he chuckled and strode out of the room. At that moment I would have stormed the gates of Hell with a bucket of water for the chief.
He was that kind of chief. He was that kind of leader. God Bless you Chief Corbett, rest in peace the world is a better place because of your life and your 54 years of distinguished police service.
Lock it up, don't leave it unattended, be aware and watch out for your neighbors.