Bond set at $200,000 for brothers accused of kidnapping and shooting Ypsilanti man
Posted on Thu, Aug 16, 2012 : 3:41 p.m.
The Ypsilanti brothers accused of kidnapping and shooting a 28-year-old Ypsilanti man on Friday were arraigned at the Washtenaw County Jail Thursday and are being held on a $200,000 cash bond.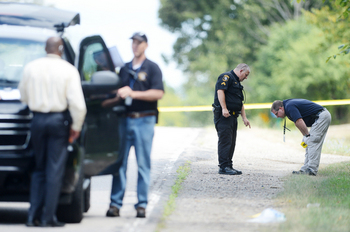 If convicted,
Clinton Desir
, 23, and
Allan Tomlinson
, 26, could face a maximum sentence of life in prison. Ypsilanti police allege Desir and Tomlinson kidnapped the man from the corner of East Michigan Avenue and Park Street and shot him multiple times in the legs before dumping him on the side of Ford Road in Superior Township.
Detective Sgt. Thomas Eberts said the victim was in stable condition but would require more surgery Wednesday afternoon. He was found by passers-by on Ford Road, who called 911.
Tomlinson and Desir turned themselves in to police Wednesday. Warrants were issued for the arrest of the men on Monday.
Magistrate Thomas Truesdell assigned the bond to the two men and referred to Desir as an "extreme danger to the public." He said during the hearing that Tomlinson would receive the same bond as his brother because they are implicated in the same incident.
Desir is charged with assault with intent to murder, assault with intent to do bodily harm less than murder, three counts of assault with a dangerous weapon, unlawful imprisonment, conspiracy to commit assault with intent to murder, conspiracy to commit assault with intent to do bodily harm less than murder, conspiracy to commit assault with a dangerous weapon, conspiracy to commit unlawful imprisonment, carrying a concealed weapon and possession of a firearm during the commission of a felony.
Tomlinson faces all those charges plus an added count of being a felon in possession of a firearm. Tomlinson has a prior conviction for armed robbery and conspiracy to commit armed robbery in 2005.
He told Truesdell he spent six-and-a-half years in prison on those charges and is currently on parole.
Family members of the two men watched the arraignment on television screens in the lobby area of the 14A-1 District Court in Pittsfield Township, reacting with horror when Truesdell announced the bonds. One woman said to be the men's mother was in tears for much of the two hearings.
One family member told AnnArbor.com the bonds were "totally unfair" and said the assertion by Ypsilanti police Officer Brooke Harrison that the men were a flight risk because the family has supposed connections in the Virgin Islands is untrue.
"They are not a flight risk, all their family is here," the woman told AnnArbor.com before walking away without giving her name.
The family refused any further comment outside the courthouse Thursday afternoon.
Desir is the father of a 7-year-old child, while Tomlinson has no children. Both men are being represented by the Washtenaw County Public Defender's Office.
The exact details of what happened between the time the victim was allegedly abducted and then left on the side of the road in Superior Township still aren't totally clear, aside from the fact that he was shot. To this point, police have only said that the shooting was possibly retaliation for an incident a few days before.
The victim was with another man when he was abducted. According to police, Desir and Tomlinson pointed a gun at the second man before they forced the victim to come with them in a Chevrolet Camaro. That man identified Desir and Tomlinson, who are believed to be acquaintances of the victim.