Brother of Gary Lillie: Family awaiting resolution for man charged in his death
Posted on Mon, Oct 29, 2012 : 5:58 a.m.
The oldest brother of veterans advocate Gary Lillie said his family is awaiting the end of court proceedings for the man accused of killing Lillie last year.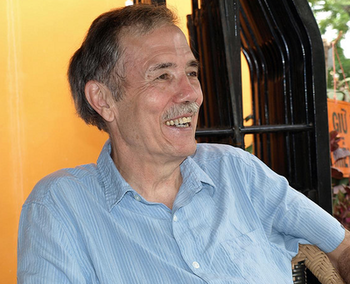 Bernard Lillie spoke to AnnArbor.com from his home in Cheboygan and said it was nice to hear there would be a resolution in the court case against Kevin Warren on Nov. 1. Warren is accused of striking Gary Lillie with his Chevrolet Avalanche last August, killing him instantly.
"We're please we're at a point the case is winding down," Bernard Lillie said. "After 11 or 12 trips down state handling this untimely and unfair demise of our brother, it's winding down and we'll get some satisfaction."
Gary Lillie, 70, was killed late on Aug. 4 when he was struck by a vehicle while walking on Marshall Road near Baker Road in Scio Township. Warren has been charged with operating a vehicle while intoxicated causing death and leaving the scene of an accident causing death.
The court case has been ongoing on since Warren was arraigned on the charges on Aug. 6, 2011. The Lillie family has been present at every hearing during the case, which has seen three trial dates set and rescheduled and four final pretrial hearings.
John Shea, Warren's attorney, told Washtenaw County Trial Court Judge David Swartz a resolution to the case is "very close" and Swartz adjourned the case until 3:30 p.m. on Nov. 1. Shea is the lawyer for Bernard Kilpartrick in the Kwame Kilpatrick corruption trial taking place in Detroit.
Shea did not return a call from AnnArbor.com seeking comment on this story.
During a preliminary exam in September 2011, a police video played in court showed Warren telling police he had dropped his cellphone in his car and was picking it up when he hit something. Warren allegedly drove home before realizing he had hit someone. He was directed by dispatchers to return to the scene of the collision and was arrested there, according to testimony.
Blood tests taken after the collision showed Warren had a .12 blood alcohol level after the collision, above Michigan's .08 legal limit.
Bernard Lillie praised the work of Washtenaw County Assistant Prosecutor Brenda Taylor and other officials in the prosecutor's office, who he said have taken a personal interest in the case. He also praised investigators from the Washtenaw County Sheriff's Office for their work on the case.
"When you see it (police and prosecutor investigations) in real life, there's a 'Wow' factor," he said. "They've done a lot to help."