Bond hearing postponed for man accused of locking woman in trunk during alleged drug-fueled rape
Posted on Wed, Aug 1, 2012 : 12:59 p.m.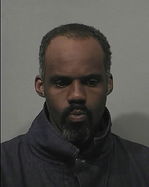 Courtesy of the Washtenaw County Sheriff's Office
The attorney for David Neal, 38, received a weeklong postponement in a bond motion after it was revealed in court Monday Neal may have inadvertently confessed during monitored phone calls from jail to tying up the woman he is accused of raping and kidnapping in May.
The Ypsilanti Township man, who faces numerous charges in an alleged crack-cocaine fueled rape and assault, has been held with no bond set. Neal appeared before Judge Melinda Morris in the Washtenaw County Trial Court with his attorney, Assistant Public Defender Stephen Adams, who argued a bond of $50,000 be set.
Before the alleged jail phone confession was revealed to the court by the prosecution, Adams argued that a bond should be set because Neal needs to stay employed rehabbing homes and that he has to care for his 80-year-old father who has vision problems and his 65-year-old mother who attends chemotherapy twice a week. Adams also told the court Neal has three kids and attends church.
Assistant Washtenaw County Prosecutor Blake Hatlem said the charges were too serious to allow the bond motion. He went over details of the case that came out during the victim's testimony at the preliminary examination in district court last month.
Neal is accused of holding a box cutter to the woman's throat and repeatedly raping her before tying her up and putting her in the trunk of a car, from where she eventually escaped and contacted police. The alleged incident occurred in Ypsilanti Township.
"This case is really an individual person's worst nightmare come to life," Hatlem said. "It's really quite horrendous."
Hatlem requested a $500,000 bond if Morris decided to set one. But the judge never got a chance.
Hatlem said the prosecution has a recorded phone conversation where Neal admits to tying up the victim. This further increases the likelihood of conviction, Hatlem argued.
After that revelation, Adams requested and received an adjournment of a week in the case, saying if the defendant did admit to tying up the woman during the jail calls, Adams might withdraw the bond motion.
Neal faces two counts of first-degree criminal sexual conduct and one count each of assault with intent to murder, assault with intent to do great bodily harm less than murder, assault with a dangerous weapon, unlawful imprisonment and interfering with the report of a crime.
He remains in jail with no bond.