Bike thefts increase at U-M, EMU; officials urge riders to take extra caution
Posted on Mon, May 14, 2012 : 5:59 a.m.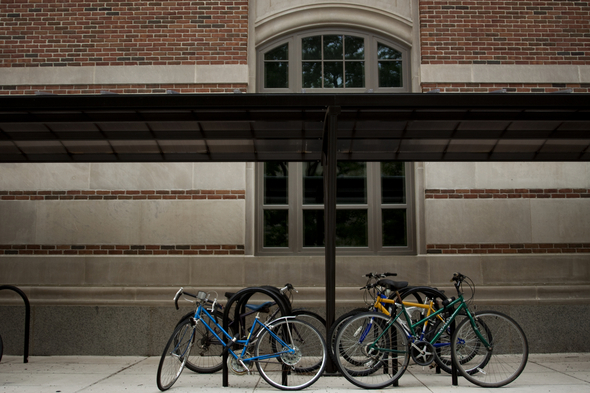 Jeffrey Smith | AnnArbor.com
The numbers don't lie: Thefts of bicycles have increased at local universities.
And the key to decreasing the number of stolen bikes might be a more diligent rider.
Both the University of Michigan and Eastern Michigan University departments of public safety reported an increase in bicycle thefts during the winter semester of the 2012 school year. While the numbers are small, just nine bikes have been stolen at EMU and 28 at U-M since Jan. 1, the rate of increase has been noticed by university law enforcement officials.
EMU Police Chief Bob Heighes said zero bikes were reported stolen in the winter semester in 2009 and 2010, with just one bike reported stolen in 2011. He said department is actively investigating why numbers have increased this year.
"Our Crime Response Unit has been assigned to address the increase in numbers this year," he said. "I believe a portion of the bikes taken have been left unsecured at different locations across the campus."
At U-M, the 28 bike larcenies reported in the winter semester of 2012 is up from 16 in 2009, 20 in 2010 and 19 in 2011.
Spokeswoman Diane Brown said many of the thefts from 2012 have something in common — the bikes were either unlocked or had been secured with a cable lock.
She said cable locks are often chopped away with bolt cutters and unsecured bikes, even those left alone for just a few minutes, can be easy pickings for thieves who are out on the prowl.
She encouraged local bikes riders to make the investment into a steel U-lock, which is more difficult for a potential criminal to remove.
"Almost all of the bicycles reported stolen either were locked with a flexible cable lock or left unlocked," Brown said. "We've had just one reported stolen (bike) that had been locked with a U-bolt lock."
"The cable locks are rather easy for thieves to cut through but U-bolts are much more challenging," she added.
Stolen bikes are especially hard to keep track of after they've been reported stolen, according to Washtenaw County Sheriff's Office spokesman Derrick Jackson.
Unlike cellphones or electronics, bikes don't usually make it to the local pawn shop market where they can be easily tracked by law enforcement agencies, he said. However, registered bikes can be put into the Michigan Law Enforcement Information Network (LEIN), which is the same system used to track stolen cars, Jackson said.
"Anything stolen that has an identification number or a VIN (Vehicle Identification Number) can be entered into LEIN," he said. "But, beyond that (there's) not really (any way to track them)."
As much as stolen bikes have increased during the winter semester, the spring and summer semesters are traditionally a time when more bicycles are reported stolen than in any other time of the year, Brown said.
Since 2008, an average of 37.25 bikes have been reported stolen during the spring and summer semesters, as compared with 19.4 in the winter semesters and 25.25 in the fall semester, according to statistics provided by Brown.
The best way to fight back against increasing bike thefts will be education, according to Heighes.
He said students and other members of the university community could expect increased programs to educate them on how to protect themselves during the next few semesters.
"We will also address this through educational programs with our Crime Prevention Officer, Candace Dorsey, and Area Police Officers (Andrea Elliot and Joseph Torres), who are assigned to our resident halls," he said.