Rash of bike thefts plagues University of Michigan campus
Posted on Mon, Aug 13, 2012 : 2:59 p.m.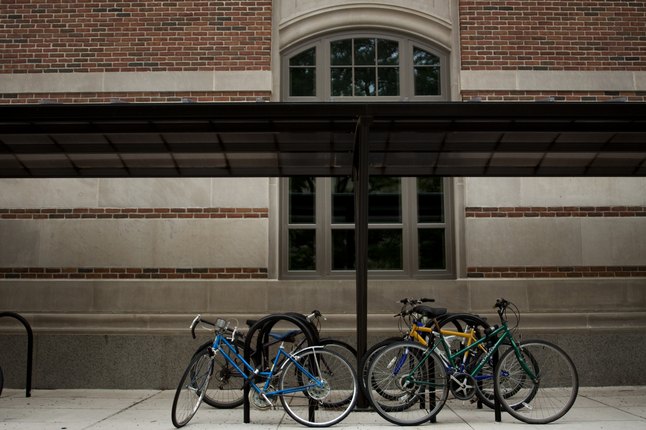 Jeffrey Smith | AnnArbor.com

Bicycle thefts continue to plague the University of Michigan campus, police report.

At least 67 bicycles have been stolen so far in 2012 as of last week. That compares to 50 bike thefts in all of 2011, said U-M Department of Public Safety spokeswoman Diane Brown

As of May 14, 28 bikes had been stolen. So, in three and a half months, 39 bikes have been taken.

The types of bikes stolen range from older models not worth more than a few bucks to mountain bikes worth hundreds — maybe thousands — of dollars. Central campus is a prime location for bicycle thievery, but so is north campus, Brown said.

But there is a way for bicyclists to fight back.

"Most of these thefts can be prevented if owners would use sturdier bike locks," said Joe Piersante, interim chief of U-M police, in a news release.

Police recommend use of U-bolt locks rather than flexible cable locks that thieves can easily cut. The U-bolt locks are made from stronger materials and pose more difficulties to potential thieves, police said.

Many of the suspects suffer from substance abuse problems, police said.

"They're reselling the bike," Brown said. "That's another reason for a person to retain their serial numbers."

Most people do not write down numbers that correspond to their bikes, but they should, police said.

"When we recover a bicycle from a thief or resale shop, we can return it to its rightful owner if we have the serial number listed in a larceny report," Piersante said.

U-M police hope to rein in bike thefts by starting a registration program akin to their laptop program in the next few months. The program would not only collect the serial numbers of bikes, but would also provide stickers, which have worked as a successful deterrent with laptops, Brown said.

"We're had a very, very limited number of registered laptops stolen," she added.

If anyone sees suspicious behavior in and around campus bike racks, please contact the Department of Public Safety immediately at (734)763-1131 or text 377911.