Minivan fire latest in string of possible arsons
Posted on Tue, May 1, 2012 : 5:40 p.m.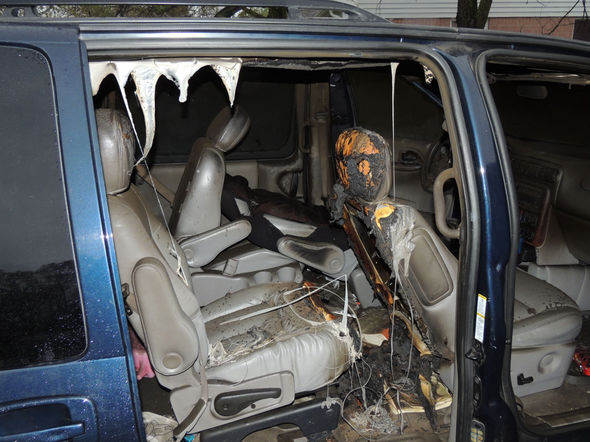 Courtesy of the Ypsilanti Township Fire Department
An Ypsilanti Township minivan fire suspected to be arson could be connected to other recent blazes in the area, according to Fire Marshal Vic Chevrette.
The Ypsilanti Township Fire Department was dispatched to the 600 block of Oswego Avenue at 6:47 a.m. Tuesday after receiving reports of a burning 2003 Oldsmobile minivan.
"There were books, newspaper … set on fire inside the van," Chevrette said. "It looks like it was deliberately set."
Firefighters using extinguishers had the blaze out within 15 minutes. The vehicle, which had a Blue Book price of $8,000, will probably be a total loss because of the amount of smoke damage, Chevrette said.
The unlocked minivan had been parked in the driveway of a residence for a couple of days. It's the fourth fire in the area in the past month, something that hasn't gone unnoticed by officials.
"I think it's tied in with the Desoto and Liberty Square (fires)," Chevrette said, referring to other recent fires near the West Willow neighborhood.
The suspicious fires began on April 17 when a garage was destroyed on Desoto Avenue. Arson was suspected in that blaze. A garage on Eugene Avenue in the same area was damaged during a fire on April 22.
Officials also suspect arson in the case of a fire at the condemned Liberty Square townhouses April 21. That fire damaged two townhouses, and officials are investigating a group of about a dozen youths on bicycles between the ages of 14 and 16 who were seen in the area.
"We're slowly building a case," Chevrette said. "We're trying to find out who they are."
As the fire marshal, Chevrette determines the cause and origin of the fire. If arson is suspected — like with Tuesday's minivan blaze — the case is sent to the Washtenaw County Sheriff's Office.
"We are investigating a number of different incidents pertaining to that area," said Lt. Jim Anuszkiewicz of the Washtenaw County Sheriff's Department. "It has ... caused some concern."
While Anuszkiewicz said officials don't have any concrete connections linking the cases, they aren't ruling anything out.
As the investigation continues, officials are seeking assistance from the public.
"We are seeking information from individuals who may have witnessed anything," Anuszkiewicz said. Anyone with information can call the confidential tip line at (734) 973-7711 or 1-800-SPEAK UP.
In the meantime, Chevrette is warning folks to lock the doors of their vehicles and homes.
"I'd keep an eye out on vacant buildings," he said.