Ann Arbor police looking for missing 48-year-old man
Posted on Fri, Oct 12, 2012 : 11:31 a.m.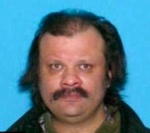 Courtesy of AAPD

Police in Ann Arbor are looking for a 48-year-old man who was last seen Wednesday near the area of Fifth Avenue and Liberty Street.

Aaron Tremba was last seen at 2 p.m. Wednesday wearing a black cowboy hat and black leather jacket, according to a police statement.

Tremba has a head injury and does not have his medication, police said. He's last known to have a heavy beard, police said.

Anyone with information on Tremba's whereabouts is encouraged to call Detective Bill Stanford at 734-323-2628, the Ann Arbor police anonymous tip line at 734-794-6939 or 911 if in the city of Ann Arbor.