Ann Arbor police arrest 2 suspected of robbing delivery driver, attempting to rob another
Posted on Wed, Apr 25, 2012 : 12:30 p.m.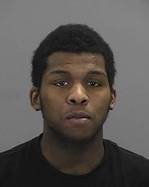 Courtesy of the Washtenaw County Sheriff's Office

Two teenagers are being held in the Washtenaw County Jail after being charged with robbing a Bell's Pizza delivery driver and attempting to do the same to a Happy Wok driver last week.

Ann Arbor police Lt. Renee Bush said Anthony Demario Hugan, 18, and Jeffrey Howell, 17, were arrested at a home in the 2700 block of Adrienne Drive Monday. They were each arraigned on four felony charges Tuesday at the Washtenaw County Jail, where they are currently lodged on 10 percent of $15,000 bond, according to court records.

The arrests are the second and third Ann Arbor police have made for armed robbery in less than a week. Jason Davis, 41, was arrested and accused of robbing both a Circle K and a Denny's location on April 14 and April 15. He's been charged with two counts of armed robbery and is being held on a $50,000 cash or surety bond, according to police.

Hugan and Howell each face a charge of armed robbery, two counts of conspiracy to commit armed robbery and attempted armed robbery, Bush said. If convicted, they each face a maximum sentence of life in prison.

Hugan and Howell are accused of robbing a 38-year-old Ypsilanti man who was called to deliver a pizza at 1 a.m. April 12 in the 1000 block of Bluestem Lane.
Courtesy of Washtenaw County Sheriff's Office
Bush said the delivery driver got out of his car with a pizza and was looking for the address he was called to when the men flagged him down. Bush said Hugan and Howell told the delivery driver that they were the customers who had ordered the pizza.
As the driver approached the two men, one of them reached into a pocket, appearing to be pulling out money, but Bush said he pulled out a gun instead. The other man held the driver's hands behind his back and went through his pockets, taking out cash, she said.
Hugan and Howell are accused of taking the cash and the pizza before fleeing the area toward South Maple Road.
The two teenagers are also accused of setting up a delivery driver from Happy Wok, a Chinese restaurant, in an attempt to rob him last week, Bush said.
The driver went to the 2000 block of Liberty Heights at 9:15 p.m. April 17 after the restaurant received an order. Bush said the driver was suspicious when he arrived because the same phone number had called the restaurant a week before and gave a different address — one that didn't exist. Although the address that was used on April 17 was legitimate, it was to a vacant property, Bush said.
The restaurant accepted the order and the man drove to the address that was given, knocking on the door but getting no answer. There were no lights on at the home and a "For Sale" sign was in the yard, Bush said. Sensing something was amiss, the driver went back to his car and locked the doors, she said.
A man approached the car while talking on a cell phone and the driver rolled down his window to ask if he had ordered food, Bush said, but the man didn't answer. The driver spotted a second man standing on a stairway between units of the complex and that was the trigger for the driver to leave the complex and call police, Bush said.
Ann Arbor police Detectives Bill Stanford and Chris Fitzpatrick ended up arresting Hugan and Howell after following a lead to the home on Adrienne, Bush said. The two men were arrested without incident.
Hugan and Howell are due to come back to court for a preliminary exam at 8:30 a.m. May 3, according to court records.