Ann Arbor man arrested and 2 suspects at large after attempted coney island break-in
Posted on Mon, Jul 9, 2012 : 5:42 p.m.
Three suspects accused of breaking into a coney island restaurant in Hamburg Township early Monday morning led police on a high speed car chase that ended in a crash and one arrest, according to police.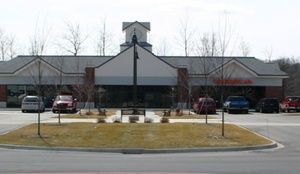 A 27-year-old Ann Arbor man was arrested at the scene of the accident, but police are still searching for two other suspects who ran away and are believed to have stolen a Jeep from a nearby residence to continue their getaway.
Hamburg Township police responded to a burglary alarm at 1:19 a.m. Monday at the Hamburg Coney Island, located at 9850 Chilson Commons Circle. The back door of the restaurant had been forced open.
Police then observed a 1999 Dodge Durango racing through the parking lot toward the exit to M-36, according to a release from Hamburg Township police.
Police pursued the Durango at high speeds westbound on M-36 until the Durango lost control and struck a signal at a railroad crossing west of Island Shore Drive.
The Durango came to a rest on its side, according to police. The Ann Arbor man was arrested, but two other suspects fled on foot. Evidence of the break-in was recovered from the vehicle.
Police think the suspects possibly escaped the area in a stolen vehicle and are asking the public to be on the lookout for a dark gray 2006 Jeep Commander with a Michigan plate of BDJ-8509. There are two hockey-related stickers in the back window.
Anyone having information about this incident or the stolen Jeep Commander are asked to contact the Hamburg Township Police Department at (810) 231-9391 or provide the information anonymously through the TIP411 program which can be accessed through the department website: www.hamburg.mi.us/police.