3 women arrested for shoplifting more than $1,000 in items from Arborland store
Posted on Wed, May 9, 2012 : 11:20 a.m.
Three women were arrested Tuesday night in Ann Arbor after stealing more than $1,000 in clothing and other items from the Toys 'R Us store in the Arborland Shopping Center .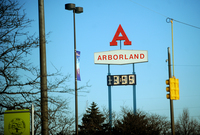 The women were in the store, 3725 Washtenaw Ave., from 6:50 p.m. to 7:15 p.m. and were observed by a loss prevention officer stealing items, according to Ann Arbor police Lt. Renee Bush.
The officer saw the women taking clothing and other items and stuffing them in bags, purses and concealing them against their bodies, she said.
The women walked out of the store without paying for the items and got into a white Chevrolet Monte Carlo, which is when the loss prevention officer called police, Bush said.
Officer Patrick Maguire stopped the Monte Carlo in the 3300 block of Washtenaw Avenue and found the items stashed in the car, Bush said.
The women were placed under arrest and taken back to the Toys 'R Us, where the loss prevention officer was able to identify them, she said.
Two of the women were 23 years old and the other was 24. They were all from Toledo, Bush said.
The women are currently in custody and lodged at the Washtenaw County Jail. Their names are not being released because they have not been formally charged with a crime.
The case is under review by the police department's detective bureau and still being investigated, Bush said.