2nd defendant in 2006 Scio Township car dealership homicide extradited to Michigan
Posted on Tue, Jul 24, 2012 : 11:55 a.m.
A week after Shane Roscoe, 47, was sentenced to life in prison with no parole for the murder of William Kenney, his co-defendant, Jonathon Aiden, has been extradited to Michigan to face similar charges.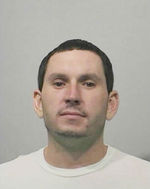 Courtesy of the Washtenaw County Sheriff's Office
Aiden was in Florida serving time on burglary charges, according to the
Washtenaw County Sheriff's Office
.
On Sunday, the 32-year-old Aiden was taken into custody by the sheriff's office. He is being held in the Washtenaw County Jail on charges of open murder with no bond. His next court appearance is scheduled for July 31.
Aiden was officially charged with murder in November 2011 for his alleged involvement in the 2006 robbery and murder that occurred at a Pontiac-Buick-GMC dealership on Jackson Road in Scio Township.