Condition of Ypsilanti soldier 'very serious' after deadly explosion in Afghanistan
Posted on Fri, Aug 3, 2012 : 7:14 p.m.
The condition of a 24-year-old Michigan Army National Guard soldier from Ypsilanti is described as "very serious" after he was injured while on foot patrol Wednesday in Afghanistan.
Spec. William Andrew Barnett was part of a group of soldiers from the Augusta-based 1433rd Engineer Company on patrol near Salim Aka about 4:50 p.m. Wednesday when an improvised explosive device detonated.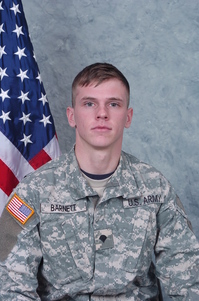 Barnett previously served a year-long tour in Iraq in 2010, and took classes in the fall semesters of 2007 and 2008 at Eastern Michigan University. He graduated from Lincoln High School in Ypsilanti in 2006.
The explosion killed 25-year-old Spc. Kyle McClain of Shelby Township instantly. McClain was the 21st Michigan National Guard Soldier killed in action since Sept. 11, 2003.
Three other Michigan soldiers in the patrol unit were injured in the event.
Staff Sgt. Robert Drebenstedt, 29, of Charlevoix and Spec. Steven Nelson, 26, of Dollar Bay were both listed in very serious condition Friday afternoon, said Michigan National Guard public affairs officer Capt. Aaron Jenkins.
Pvt. Joshua Colon, 20, of Grand Rapids was also injured but not in serious condition Friday, Jenkins said.
"It's not a common thing but it has happened before," Staff Sgt. Jason Boyd, a Michigan National Guard spokesman, said of the number of soldiers.
On Feb. 26, five members of the Guard were injured by an explosive in Kunduz Province, Afghanistan. They survived.
Boyd said the engineers' job is to check routes for possible explosives. He didn't know why they were on foot patrol.
"We mainly use vehicles that will detect the possibility of IEDs," he said. "They don't look under rocks. They look for wires sticking out of the ground and other warning signs. There may be disturbed concrete. There may be disturbed soil that wasn't there the day before."
The injured soldiers were transported to military medical facilities at Kandahar Airfield in Afghanistan.
If the soldiers' injuries were deemed serious enough, they would be transported to the Army hospital in Landstuhl, Germany, Jenkins said.
As of Friday afternoon, none of the soldiers had been transported from Afghanistan.
The 1433rd Company has 90 soldiers and has been in Afghanistan for a full month, beginning in July. The company's year-long tour started in May with training, Jenkins said. The Michigan Army National Guard has about 1,500 soldiers currently deployed in Afghanistan.