City of Ypsilanti, Washtenaw County Treasurer's Office to host open house program on tax foreclosed homes
Posted on Mon, Jul 11, 2011 : 5:55 a.m.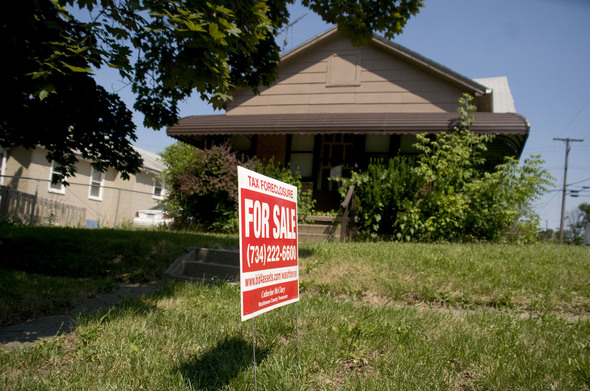 Tom Perkins | For AnnArbor.com
Residents considering purchasing tax foreclosed property in Ypsilanti this summer will have a new opportunity to view some buildings and homes during a tax foreclosure open house.
The tax foreclosure process usually requires online bidding for properties "as is" and offers no chance for bidders to view interiors. County and city officials are hopeful that by providing the chance to see properties' interiors and have city or county staff on hand to answer questions, the auctions will generate more money and lead to more successful renovations.
"If people can see the property and walk around inside it, then they know what the risk is, they know the good points and bad points, and they are likely to bid more intelligently," Washtenaw County Treasurer Catherine McClary said.
McClary said she visits each of the properties but doesn't always see the interiors, therefore can't always answer some basic questions that might provide a bidder with more confidence and information on a property.
She used the example of a question she regularly receives about whether or not a building has copper plumbing. If bidders know plumbing won't need replaced, then there will likely be a more competitive auction.
"This is a really good situation for the bidders because they will know the risks and what repairs and rehab might be required. We think we'll get better and higher bids and that's good for tax paying public," McClary said.
She added that it will also likely lead to more successful renovations because people won't buy a foreclosed home only to discover it needs more restoration work than they are prepared for.
The properties will be available for viewing between 1 and 3 p.m. on Saturday, July 16, and bidding begins at 10 a.m. on Friday, August 12. Bidding concludes at 3 p.m. on Monday, August 15.
The city has 27 tax-foreclosed properties and 10 will be available for viewing during the open house. Eight residential properties and two commercial will be available for viewing. One property was built in 1869 while others were built as late as the 1970s.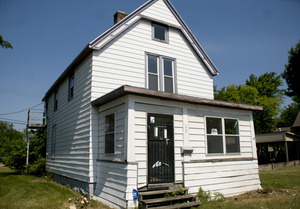 Tom Perkins | For AnnArbor.com
McClary said the homes are typically in better condition or offer unique selling points. For example, one home was damaged in a fire but the city collected insurance money, gutted it, and its now available for someone to buy and customize the interior.
All the city's foreclosed properties won't be available because limited staff is available and some of the properties are only lots. The Washtenaw County Sheriff's Department is providing labor through its work release program to help clean up the properties prior to the open houses.
If the program is successful, McClary said it would likely expand within the city and to other county communities.
For more information visit www.bid4assets.com/washtenaw.