City of Ann Arbor hires firm for $3.6 million to help manage Stadium bridges replacement project
Posted on Tue, Jun 21, 2011 : 5:58 a.m.
A company called Parsons Brinckerhoff Michigan Inc. will be paid $3.6 million to help manage the East Stadium Boulevard bridges replacement project.
The Ann Arbor City Council voted 10-0 Monday night to approve a contract with PBM for project management and construction engineering services.
The council also voted 10-0 to approve a third amendment to a contract with Northwest Consultants Inc. for nearly $610,000 worth of additional construction engineering and design engineering services for the project, which is slated to start later this fall.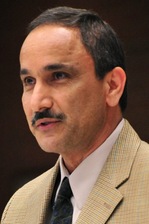 In all, the project is expected to cost about $23 million, a majority of which is being covered by state and federal grant dollars.
Homayoon Pirooz, head of the city's project management unit, said the city issued a request for proposals for project management services in January that netted offers from six firms. City officials selected PBM based on its past experience with similar projects.
Pirooz said the city needed to retain the services of a team with expertise in bridge and structural engineering, as well as underground utility and roadway construction. He said the services provided by PBM, when augmented with the expertise from NCI, should provide the seamless construction engineering and project management services needed.
To date, the City Council has approved $1.6 million for planning and design engineering services with NCI. With the latest amendment, that goes up to $2.2 million.
Pirooz said he expects crews to begin work on the project around Oct. 3, with a detour and the closure of the Stadium bridges to all traffic starting Nov. 28.
South State Street also is expected to be closed to traffic for two weeks at that time to demolish the bridge and install storm sewer that is needed in a future phase of the project.
East Stadium Boulevard is expected to reopen to traffic around Nov. 14, 2012. Final completion of the project — including final restoration, completion of pavement markings and other related tasks — is expected around May 30, 2013.
The council is expected to approve an agreement with the state in August that defines each party's rights and responsibilities. At that time, Pirooz said he'll provide council members with an update on the project budget and financing plan.
The construction engineering services for the project are expected to be funded from a combination of sources, including the street reconstruction millage, alternative transportation fund, major street fund, as well as the water, sewer and stormwater funds.
Council Member Tony Derezinski, D-2nd Ward, was absent.