City administrator: 112 citations issued as University of Michigan students returned to Ann Arbor
Posted on Wed, Sep 5, 2012 : 5:58 a.m.
City Administrator Steve Powers said the Ann Arbor Police Department issued 112 citations during welcome weekend as University of Michigan students returned for the fall semester.
That included citations for excessive noise, open intoxicants, minors in possession of alcohol and other ordinance violations from Thursday through Sunday.
Powers, reporting the figures for the first time during Tuesday night's City Council meeting, said the overall number of citations actually was down slightly from last year's welcome weekend.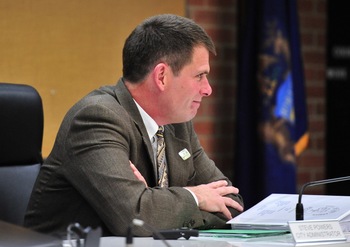 Ryan J. Stanton | AnnArbor.com
He said the department dipped into its overtime budget to increase police staffing for the weekend, and the same will go for upcoming football Saturdays.
"In addition to our normal shifts, we added officers through overtime, and that will continue for the football Saturdays through September, and we'll reevaluate for October," he said.
Asked how many officers were staffed, Powers said it varies depending on the hour — anywhere from 13 and 16 is regular, he said, and that's bumped up by four to five officers.
"We're trying to be responsive through the use of overtime, through the use of resources that have been allocated," he said. "It's a priority and we'll expend the overtime budget accordingly."
Despite a number of violent assaults reported in Ann Arbor, area police said they weren't surprised at the amount of crime they had to deal with over the weekend.
At least two women were arrested and six people were hospitalized after weekend assaults that coincided with the return of University of Michigan students in Ann Arbor.
Police said on Tuesday they were looking for suspects in three separate sexual assault cases in which women reported being groped — one in the city of Ann Arbor and two that were reported on U-M's campus after a crime alert was sent out Monday morning.
Two women accused of attacking a 45-year-old Whitmore Lake man in an alley off Willard Street were arrested after allegedlly hitting the man with a shovel, bucket, bottle and broom before attempting to flee the area in a Ford Escape.