Chickens killed in Northfield Township barn fire
Posted on Tue, Mar 19, 2013 : 5:48 p.m.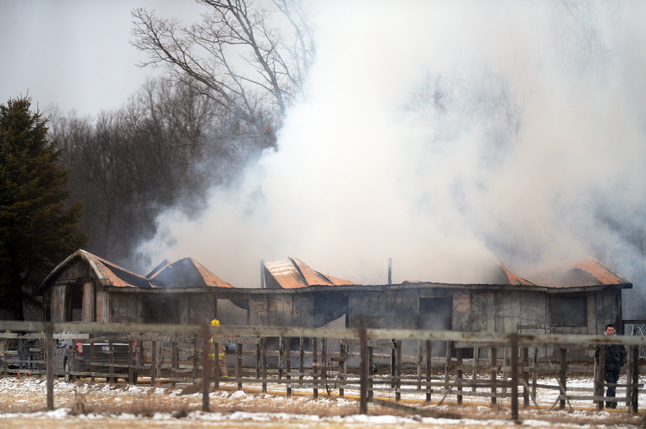 Melanie Maxwell | AnnArbor.com
The horses and goats were saved, but several chickens perished in a fire that destroyed a Northfield Township barn Tuesday afternoon, officials said.
The fire broke out just before 12:45 p.m. in a barn behind a residence in the 9400 block of Spencer Road between Seven Mile and Eight Mile roads, said Northfield Township Fire Chief William Wagner.
"It was a horse barn way back out behind the house," Wagner said.
The barn was fully engulfed in flames and the roof had collapsed when fire crews arrived. About five horses and eight goats -- six adults and two baby goats -- were already out of the barn, Wagner said.
Chickens inside the barn were unable to escape, however. Wagner said he couldn't be sure how many of them there were, but estimated there were less than 10 of them.
Fire departments from Northfield, Hamburg and Salem townships, as well as the Dexter Area Fire Department, assisted in getting the blaze under control, which took about a half hour, Wagner said.
Hay bales inside the barn burned much longer and the crews didn't clear the scene until 4:15 p.m.
The barn, which was about 30 foot by 50 foot, was a total loss. There was a teenage boy home at the time, but there were no reported injuries.
Wagner estimated the damage to be around $40,000. He said there were saddles and other horse-related equipment that was lost in the fire.
The cause of the fire is unknown, but is being investigated, Wagner said.