Will $0 be the new price of playing sports at Chelsea schools?
Posted on Mon, Aug 27, 2012 : 5:58 a.m.
The Chelsea school board will vote on a proposal to eliminate fees for middle- and high-schoolers to participate in athletics Monday night.
The district has been contemplating doing away with its pay-to-participate fees for the past few months. The fees long have been a concern of the board's, said Superintendent Andrew Ingall.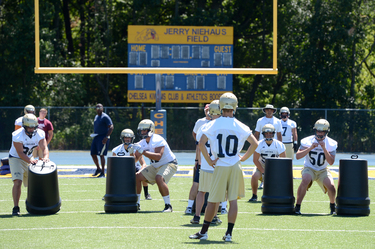 Melanie Maxwell I AnnArbor.com
"The premise always has been for us that we believe athletics are critically important to a student's engagement in school," he said. "Sports and extracurriculars are a real indicator of students' academic success."
Chelsea School District's fees for sports already are on the low-end, when compared to the rest of Washtenaw County's schools. The district charged $25 for unlimited sports at the middle school last year and $100 for unlimited sports at the high school. Students who qualified for free or reduced-price lunch only paid $10 to participate.
Ingall said while the district has scholarship opportunities as well as other means of helping low-income families, it wants to ensure all students have an equal opportunity to participate.
"A lot of families don't think they qualify or are eligible for aid, or just have that pride and the kids don't want to ask for help," he said.
Pay-to-participate fees at several other Washtenaw County districts have a range, depending on how many sports students play.
Middle-school students at Manchester Community Schools pay $90 for the first season, $70 for the second season and $60 for the third or fourth. At the high school, the fees are $100 for the first season, $80 for the second and $70 for the third or fourth.
At Ann Arbor Public Schools, the fee to participate in any after-school sport is $50 per middle-schooler, per year. At the high schools, the fee is $150 for the first sport and an additional $75 for each sport after that.
Dexter recently increased its fees from $100 per sport at the high school to $250 for the first sport, $150 for the second sport and $100 for the third sport. Middle-schoolers pay $150 for their first sport, $100 for their second sport and $75 for their third sport.
Ypsilanti and Willow Run do not charge students to play sports.
Total participation rates at Chelsea dropped by "double digits" after the schools implemented the fee model in 2010, Ingall said. High school football coach Brad Bush said football numbers were not impacted, but the fee structure did not promote the involvement Chelsea strives for.
"(Athletics) participation numbers took a hit. And at other school where there is an additional fee for each sport, we see it kind of discourages multi-sport athletes — and that's really not something we want to happen," Bush said. "If you have more than one athlete in a family and multi-sport athletes, which we try to encourage here, (the cost) can get pretty ridiculous."
Ingall said the pay-to-participate fees only contributed about 10 percent to its approximately $660,000 athletics budget and primarily covered the coaching staff's salaries.
"At this point, if the board were to (approve eliminating the fees), … it would be a budget adjustment for us. We don't have another revenue source," he said. "Our budget is in better shape than it was two years ago. We still have an operational deficit, but we do have some fund equity available that we could put toward it."
Ingall said fall coaches were notified of the board's desire to study this issue and the coaches were told not to collect fees from students until a decision was made. So no money was collected and only will be if the board decides not to eliminate the policy, he said.
Local Sports Editor Pete Cunningham contributed to this story.